Adventures in Iowa
Dec 07, 2021
Living as a Danish intern in Elk Horn
My name is Frederikke Lund Theodorsen. I was born in the summer of 1996 and raised on the beautiful island Møn in the south-eastern part of Denmark. I grew up in a family consisting of my mom, my dad, my older sister, and myself. I started my bachelor's degree in English and digital marketing communication from University of Southern Denmark in 2018 and moved to Copenhagen the same year. Back in 2016 I decided to spend a year in Atlanta, GA where I worked as an au pair. I fell in love with the U.S., and I thought an internship would be the perfect excuse to come back.
My work at Museum of Danish America
I am working as a communications intern for the Museum of Danish America until April 2022. I am very excited and grateful for the opportunity to do a five-month internship for the museum. This internship gives me the opportunity to learn what a communications job can look like, but it also opens a door to the museum world, which is what I wish to pursue one day. I have already had a different variety of work, including some creative design work, social media work, and editing work.

Most recently, I worked on an advent calendar for the museum's Facebook page, where I picked out 25 Christmas cards from their collection to post in December. I had so much fun working on that project as it gave me the opportunity to look through their interesting collection, I could be creative with my writing, and I could do some translation.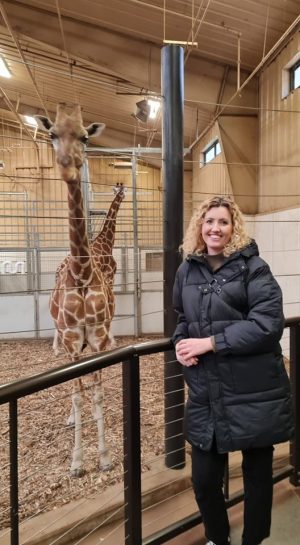 Life as an intern in Elk Horn and Iowa

As an intern for the Museum of Danish America you live in the "intern house" in Elk Horn, IA. I have been very fortunate to have an American roomie for the first half of my stay. It is fun to have someone to share the experience with, and someone who can show me Iowa, since she is from the state herself. Just in the first month of being in Iowa, I have already visited so many places. Thus far I have been to the Durham Museum in Omaha, NE, I have visited the Iowa State Capitol in Des Moines, got a private tour of the State Historical Society by their curator, and I took a trip to the zoo in Omaha, which is ranked as one of the world's best zoos! On my first weekend in Iowa, the other intern and I, were invited to "Det Danske Kolde Bord" at Grand View University. It is an event hosted by Grand View and the Danish Brotherhood, where they serve a lot of Danish food and akvavit. It was a great start to my stay in Iowa!

Life in Elk Horn has surprised me – in a positive way! I thought it would be hard living in such a small town with a small community. But everyone I have met thus far have been so welcoming and friendly. All the Dannebrog and the Danish street names makes me feel like I am not too far away from home after all. I am excited to see what fun adventures are waiting for me for the rest of my stay in the U.S.
Find out more about the Danish intern exchange program sponsored by Scan Design Foundation on our website: Museum of Danish America Danish Intern Program