Capitol Hill Public Life: How can public spaces better create connection, support public health, and promote environmental resilience for everyone?
May 31, 2021
Scan Design Foundation has partnered with Katy Scherrer and the team at COurban since 2016 to develop custom Masterclass programs for delegations of Pacific Northwest professionals to engage in hands-on learning experiences in Copenhagen, Denmark.
COurban works with each delegation to co-create new tools that shed light on the experience of urban space and expand participants' understanding of their own projects. The COurban Masterclasses enable participants to actively facilitate change by learning concrete and tested tools for how to plan, design and build a livable city. In 2019, a Masterclass cohort went on a study tour of Copenhagen and Malmö, bringing home inspiration and actionable strategies to the Capitol Hill EcoDistrict.
We are living in a time of crisis. The pandemic, coupled with an ongoing homelessness crisis, has laid bare the necessity for our public spaces to function differently. The need for human services is vastly outpacing capacity, and people are finding refuge in parks and other public spaces that are not built for these purposes. Climate change adds another layer of complexity with wildfire smoke, flooding, and extreme heat events becoming yearly occurrences with devastating and inequitable consequences. Public spaces must be reconceived as resources for mutual aid, healing, and harm reduction.
In the past year, the need for an equitable and sustainable Capitol Hill public life plan has become increasingly important. Evidence-based analysis grounded in the community's experience should inform and support high quality permanent improvements, raise the public's awareness of, and involvement in, changes to the neighborhood, and bring a broader sense of belonging. The Capitol Hill Public Life Plan will create a unified vision and platform for short- and long-term improvements to the Capitol Hill public realm.
Public life refers to the aspects of human activity which occur in public – the connections and interactions between people in public spaces as well as between people and public spaces. The quality of public life is determined by both the quality of those interactions and the quality of public space that supports them.
In assessing quality, the Capitol Hill EcoDistrict is taking a decolonized approach of criteria-setting and data collection that involves collaboration and co-creation, oral testimony and storytelling, and reality-testing with community members who experience the most impact from decision-making.
The EcoDistrict envisions public spaces as creating experiences of belonging, healing, and inspiration through improvements to lighting, interactions with nature, opportunities to linger and connect, and development that happens at a human scale.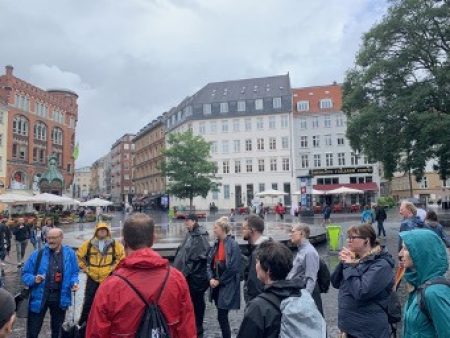 Laying the Groundwork
In the Summer of 2019, COurban Design Collective's Urban Livability Masterclass brought together government, nonprofit leaders, and stakeholders from Seattle for an immersive week of fieldwork, tours, lectures, presentations, and workshops. The Masterclass program was sponsored by the Scan Design Foundation, which offered scholarships to public employees and non-profit participants. The group toured and studied world-renowned public spaces in Copenhagen, Denmark and Malmö, Sweden, bringing home inspiration and actionable strategies to the Capitol Hill EcoDistrict. The program was led by COurban Design Collective's Bettina Werner and Katy Scherrer and by Framework's Lesley Bain. The cohort included members of the Capitol Hill EcoDistrict Steering Committee, Seattle Central College, Sound Transit, the Seattle City Council, the King County Council, the Seattle Department of Transportation, the Washington State Department of Transportation, 4Culture, Seattle University, Capitol Hill Housing, Kaiser Permanente, the GSBA, the Capitol Hill Business Alliance, the Bullitt Foundation, Blanton Turner, Shields Obletz Johnson, and consultants from COurban Design Collective and Framework Cultural Placemaking.
The Masterclass program in Copenhagen focused on its status as a global leader in the study and cultivation of public life, which has been systematically tracked there since the 1960s. The group heard from professionals who have influenced the city's public spaces and learned how evidence-based practices and institutional decision-making has helped the city become one of the most livable urban environments.
The cohort returned with a set of shared lessons and values:
Put people first in decision-making, creating a neighborhood that is inviting, rather than excluding, and supportive of all people
Prioritize people first, then public life, and then the built environment
Center racial equity and social justice
Honor the historic role of LGBTQ culture and the arts
Create a neighborhood of opportunity and safety from a place of generosity and abundance without criminalization in a soul-nourishing, encouraging environment
Support successful, locally based small businesses that activate public life and encourage lingering, positive social interaction, and joy
Connect people to nature and a healthy lifestyle in an environmentally resilient neighborhood designed to make the healthy choice the easiest choice
Promote active transportation and supports ease of access that encourages movement and interaction with enjoyable surroundings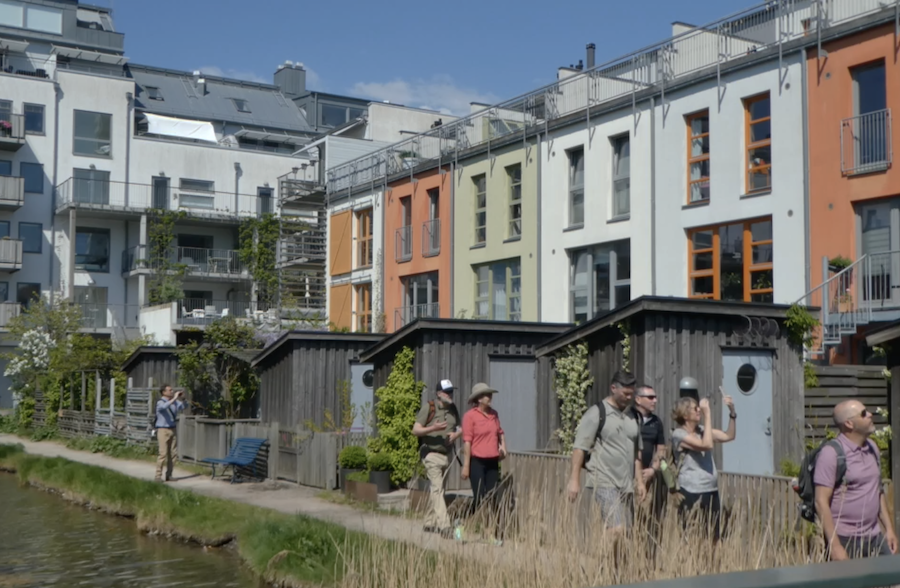 An article from the Capitol Hill Blog quotes Councilmember Lorena Gonzalez. "The first takeaway was a healthy respect for the "four second rule", after seeing the variety within Copenhagen street fronts where the streetscape seems to change every four seconds as you pass along." Councilmember Gonzalez also mentioned that Copenhagen deepened her respect for designing with climate resiliency in mind and creating urban spaces "intentionally designed for green architecture." And, finally, the trip sold her on the importance of "blocks of cities dedicated to pedestrians and bicyclists."
Shortly after the cohort returned from traveling, Councilmember Gonzalez led a group of journalists, stakeholders, and community members on a walking tour highlighting public life and opportunities around the Capitol Hill neighborhood. The tour examined what public life could be if we center our efforts on people, climate, and sustainability and how developments like the new Capitol Hill light rail station are working with the community to influence equitable transit-oriented development. The neighborhood walking and international study tours helped gain support for a Capitol Hill Public Life Plan and an approved Seattle City Council funding package for Capitol Hill community-led public life planning and projects. Click here to learn more about this Masterclass program and the local public life plan and projects in Capitol Hill.

Why Capitol Hill, and why now?
Despite challenges, this is a moment of opportunity. The pandemic has clarified the importance of public spaces for those without private yards – or homes. Mutual aid efforts leverage parks and thoroughfares designed for uses that do not reflect current need. Over the next decade, hundreds of millions of dollars will be poured into new developments and campus renovations that could contribute to thriving public life in Capitol Hill, able to support climate change mitigation and to support a sense of belonging for the neighborhood's most vulnerable community members.
In a community that is the heart of both LGBTQ life in Seattle and a thriving arts district, skyrocketing growth has threatened people impacted by intersecting systems of oppression for more than a decade. In June 2020, following weeks of protests in the wake of the killing of George Floyd by police in Minneapolis, Capitol Hill became a focal point locally and internationally for organized protests against police brutality toward Black people. After a standoff with the Seattle Police Department at the East Precinct, located in Capitol Hill, protesters declared an autonomous zone which eventually became known as the Capitol Hill Organized Protest zone, or CHOP. During its short life, this area, which encompassed Cal Anderson Park, became the site of teach-ins, community art, and a community garden, all of which centered the experiences, stories, and pain of Black, Indigenous, and people of color communities. From CHOP, the EcoDistrict took many lessons on creating a culture of belonging by supporting community ownership and leadership in decision-making.
These lessons complement ongoing baseline research. In 2019 and 2020, the Capitol Hill EcoDistrict embarked on research to establish a better understanding of how public spaces are functioning and how people move through and linger within them. In 2019, the Department of Neighborhoods, the Bullitt Foundation, and the Local Initiatives Support Corporation (LISC) funded a public life assessment of 48 locations throughout the neighborhood, which illuminated the pressure put on various economic nodes, namely the Pike Pine corridor and Broadway. While other economic zones within the neighborhood, specifically 15th Avenue and Olive Way, encourage some movement and connection, they did not offer as many invitations to linger. Nearly all locations recorded people living in public. The EcoDistrict has noted a marked increase of people living in public spaces during the pandemic above and beyond what was witnessed during these counts to the extent that every park in the neighborhood has had encampments of unhoused people.
In 2020, with support from the Scan Design Foundation, the EcoDistrict completed an assessment of the quality of public space in the same four economic zones established during baseline observational counts. While the centers of each economic zones functioned relatively well, there was no legible network to connect community assets such as parks, performance venues, or retail corridors. Very little public art reflects the neighborhood's cultural identity. Pedestrian and cyclist safety was a significant issue at major intersections and at the downtown edge of the neighborhood. Cars were heavily prioritized within and in between economic zones. Tree canopy and wildlife habitat deteriorated moving south, and limited transit connections existed in that direction as well.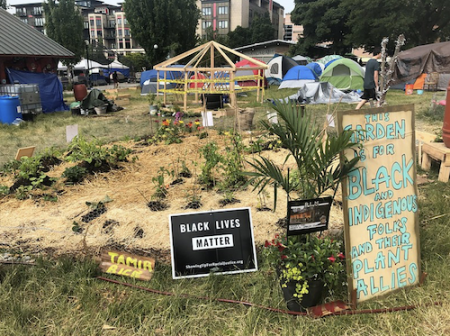 What's next?
As Marcus Henderson, CHOP gardener, notes in an interview with Crosscut, "It starts with land. I've been really fascinated with the idea of land ownership: collective land ownership, taking back property and really making it work for the people, using the land, growing food on the land, becoming self-sufficient. It's something that I think is really important for us as a people. Because Black people have always lived on less money ⁠— and learning how to do it in a way that allows us to live healthy, sustainable lifestyles is important for Black people in particular."
In 2021, the EcoDistrict is working to establish an advisory committee comprised of and reflective of a broad community with relationships to Capitol Hill. This committee will guide outreach efforts, ensuring an inclusive and equitable discussion through which will be created a vision and implementation plan for public life. At every step, the EcoDistrict hopes to partner with the arts community to infuse public life improvements with storytelling that reflects the identities, history, and legacy of the neighborhood. By creating a curatorial committee – in a similar vein to the advisory committee – made up of artists, arts organizations, and community members, artistic aspects of pilot projects will be guided by neighborhood storytellers.
Pilot Projects
To showcase the possibility of public life improvements and to begin an active process of healing and relationship-building, the EcoDistrict will embark on several pilot projects. The first will test strategies related to Green Stormwater Infrastructure (GSI), focusing on education and art installations to encourage the adoption of various tools and help connect community members to neighborhood ecology by telling the story of water and the context of indigenous land theft with street murals.
Knowing that a major concern and barrier to success is the sense of belonging that is, for now, only available to some, another pilot project will work with Seattle Audubon to demonstrate wildlife habitat creation in the right-of-way with ADA accessible, non-Eurocentric, and ethnobotanical gardening.
Another project involving retail pop-ups along smaller, non-arterial blocks to support the reopening of small business corridors round out the portfolio.
Addressing Health and Human Services
As the EcoDistrict works to address a deep need for belonging shared by all community members, no group is more impacted by nor more subject to derision than unhoused neighbors. It is of primary concern to work to meet their needs, to ensure that people lacking homes are welcome and safe, and to address the underlying issues of economic and social inequality that contribute to homelessness in Seattle. The EcoDistrict is establishing a baseline understanding of existing resources, of existing and projected needs, and of the gaps that must be filled while strategizing with partners to build capacity to support these valued members of the community.
Call to Action
The thought of public life planning may remind the reader of an active, tree-lined street with sidewalk cafés and pleasant, brightly decorated shop windows. While an inviting idea, public spaces must be constructed to hold everyone, feed everyone, and carry everyone along, leaving communities better for the interaction. The goal of the Capitol Hill EcoDistrict is for each person to experience connection and inspiration – with themselves, with each other, and with the ecology of the neighborhood. This is only possible through the co-creation of inclusive, liberated public spaces.
Related Articles:
Other Organizations & Groups:
Find out more about Scan Design Foundation's partnership with i-SUSTAIN here.