Denmark Inspiration: An Urban Planner's Reflections on Denmark
Aug 23, 2022
Enjoy this selection of blog posts by Robert Spurlock, a professional urban planner in Oregon, who participated in the 2022 Scan Design Foundation-funded University of Oregon Bicycle Study Abroad Program in Denmark and the Netherlands.
Robert Spurlock is a Regional Planner with Oregon Metro. He has more than 10 years of experience in urban planning and natural area land management. His project work includes regional trail master planning, active transportation system planning, site planning, right-of-way acquisition, and public involvement.
A Conversation about Climate
Original post dated June 23 2022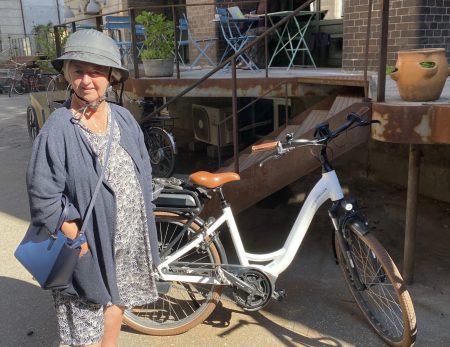 This morning I had the great pleasure of meeting with one of the world's foremost experts on climate adaptation for cities. Lykka Leondarsen has played a lead role in Copenhagen's planning and implementation of climate resiliency solutions. Thank you to Adrian Benepe for connecting us.
I started with the overarching question that's been on my mind since I arrived here: what is it about Denmark that the U.S. lacks that has allowed Denmark to become such a utopia for livability and sustainability? She has a number of thoughts on this:
She said in the 1990s Copenhagen wasn't such a nice place. It was dirty and bankrupt. The leaders at the time made an intentional decision to set a new course. They set targets for things like cleaning up the harbor by eliminating combined sewer overflows, and increasing the bike network.
She espouses the "if you build it they will come" mantra for increasing bike mode share in cities. That has been Copenhagen's experience. As the bike network has gotten more complete it has become so easy to use that more people now choose biking over other modes.
She believes that wherever we see problems, we should also see opportunities. Like Portland, Copenhagen will see bigger storm events as a result of climate change, leading to more flooding. Adapting the city to a more flood prone present and future includes major changes to the built environment. These changes are opportunities for increasing livability for everyone by incorporating transportation and recreation amenities.
She travels to the U.S. regularly where she's in high demand as an expert on climate adaptation, and has been to Portland on several occasions. The Portland project that made the biggest impression on her was the work the Bureau of Environmental Services did to restore the floodplain along Johnson Creek by purchasing dozens of private properties to demolish the structures and plant native vegetation.
In terms of urban transportation policy, in Copenhagen's case, she says that the bicycle is an integral part of the strategy to reduce greenhouse gas emissions. She was surprised that bicycling doesn't feature more prominently in the greater Portland region's climate strategy.
Both cities face a politically influential backlash against efforts to reduce car parking. The cost of including off-street parking in residential developments is about $140,000 per stall in Copenhagen, which I believe is more than in Portland, but similar. Over time, new residential buildings have been moving toward providing fewer and fewer stalls, but she feels that Copenhagen will need to seriously reduce parking availability — both on- and off-street — if it is to achieve it's climate goals. As an aside, I've noticed that Copenhagen has way more on-street car parking than I would have expected for such a bike-friendly city.
Her final point got to the heart of my question about the differences between our two societies. She said that Danish people have so much more trust in their government than Americans. I should devote a whole blog post to this topic because this is a theme that permeates throughout everything I've observed here. The example she gave was Copenhill, which I wrote about in yesterday's blog post. She said there wasn't any opposition from neighbors to the siting of a waste incinerator in their community, and pointed out that in the U.S. you would never be able to site a waste incineration facility so close to the center of a city. Can you imagine the protests? The Danes feel like they have a stake in these types of decisions and like the end result serves a greater good.
Cost Comparisons, Curb Ramps and Cycle Snakes
Original post dated June 27 2022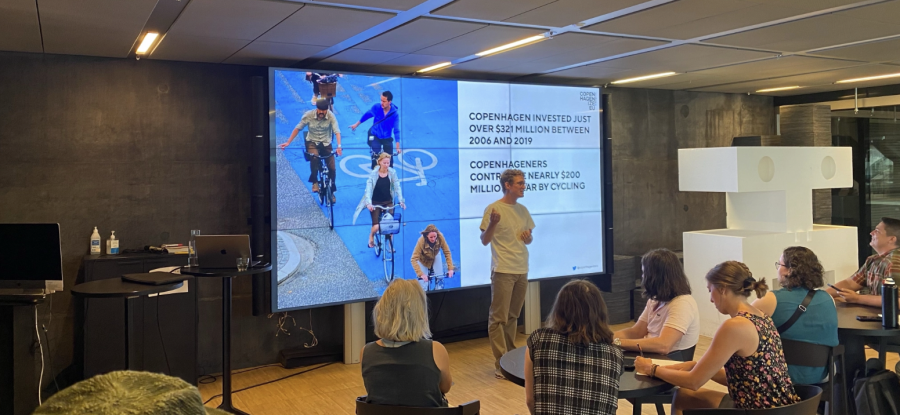 We all attended a presentation today at the office of the consulting firm Copenhagenize where we learned a statistic that seemed too good to be true, which is that between 2006 and 2019, Copenhagen spent just over $321 million on bicycle infrastructure. This may seem like a lot of money, but after having biked all over this city for the past week and seeing lots of truly world class infrastructure, I would have expected this figure to be much higher. For context, $321 million is roughly equivalent to the cost of a freeway interchange in the U.S.
What's even more remarkable about this is that the outcome of this investment is the highest percentage of commute trips by bike of any city in the world. Forty-nine percent of journeys to work or school are made on bikes here. This return on investment is orders of magnitude greater than anything achieved in the U.S.

Why? Why is Copenhagen infrastructure so cheap? Or put another way, why is American infrastructure so expensive? Turns out there are many reasons and there's no simple answer, but this New York Times article from last year gives about as good an explanation as you'll find anywhere.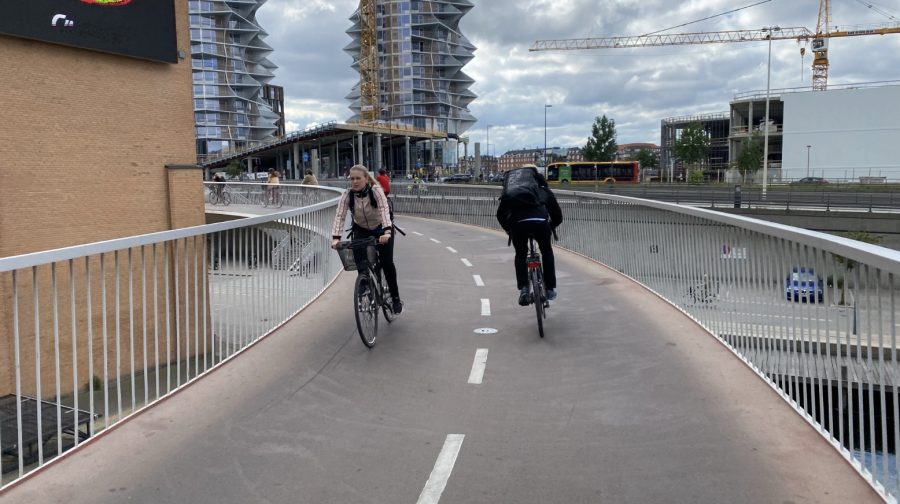 Here's an example. In my opinion Copehnagen's most impressive piece of bicycle infrastructure, the "Bicycle Snake" Bridge, cost $5.74 million in 2014. With its half dozen-or-so piers in the harbor, this bridge easily could have cost twice this much in the U.S. Construction cost estimates for similarly sized structures in the greater Portland area are in the $20 million range in today's dollars.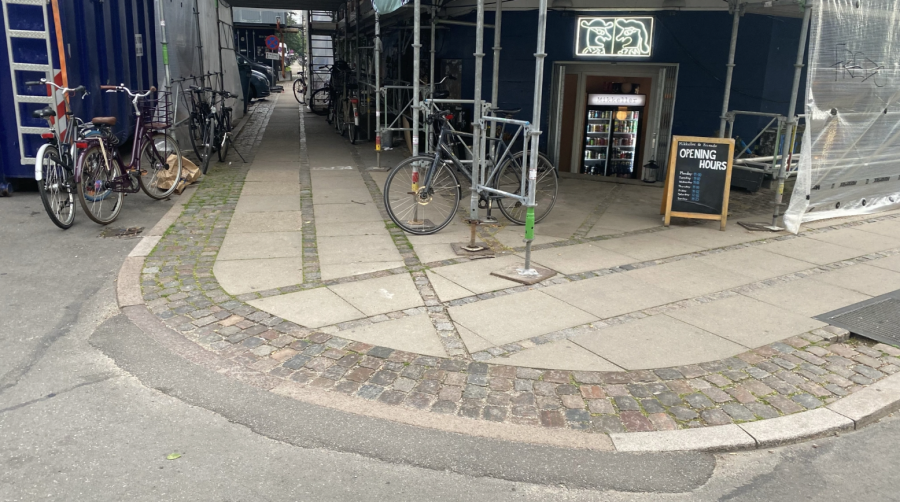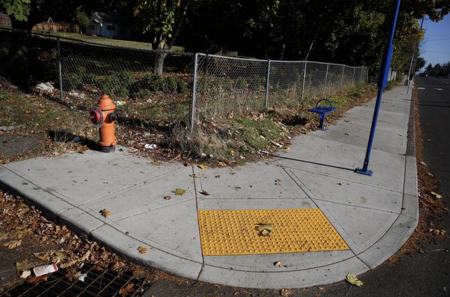 Curb ramps are a microcosm of this phenomenon. I've been really struck by how basic and ubiquitous curb ramps are in Copenhagen. Our back-of-the-envelope estimate is that a Copenhagen curb ramp costs about 1% the amount of an Oregon curb ramp. Yes, you could build one hundred curb ramps in Copenhagen for the same price as one in Oregon.
I'm not sure what can be done about this, but just wanted to point out that the best cycling city in the world achieves its success for a fraction of what we spend back home.
Parting Reflections
Original post dated July 4 2022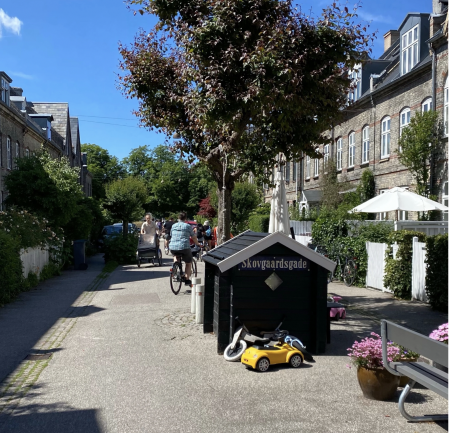 We got back home to Oregon last night. While it may be true that there's no place like home, I can't help but feel like I'd rather be in Denmark. With our ultra-right extremist Supreme Court, rampant gun violence, and out of control poverty and houselessness, the U.S. feels more dystopian than ever, while Denmark feels like a utopia in so many ways.

The quality of the transportation systems and public spaces, and the communal spirit of everyone looking out for each other just don't exist in the U.S. Take for example our trip to the Copenhagen airport yesterday morning. We were in the city of Odense, which for comparison purposes is conveniently about the same size as Eugene and at 165 km is the same distance from Copenhagen as Eugene is from Portland. We took a train from Odense to Copenhagen airport that only takes one hour and runs every half hour. The train from Eugene to Portland takes three hours on a good day and runs only four times per day. Oh, and it doesn't even go to the airport. For that, you would have to transfer to MAX light rail.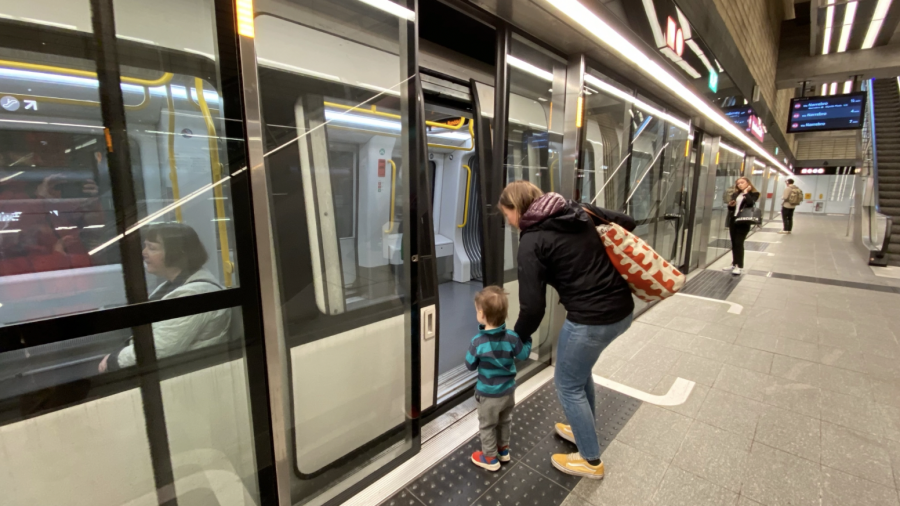 My fellow Scan Design Foundation Fellow, Andrew Martin and I were talking about these themes while on a bike ride the other day. The Danish transportation system has a level of redundancy built in for all modes that the U.S. system only has for automobiles. You can get where you need to go faster and more easily by biking, taking transit, or a combination of both, than by driving. Trains and buses run frequently enough and to and from enough places that you don't really need to plan your trip, you just go at the nearest station and the system takes care of you.
The same is true for biking. As you would with a car in the U.S., you just hop on your bike and go. If it starts raining, as it did on Andrew and me during our ride, just go to the nearby transit stop and hop on a train or a bus.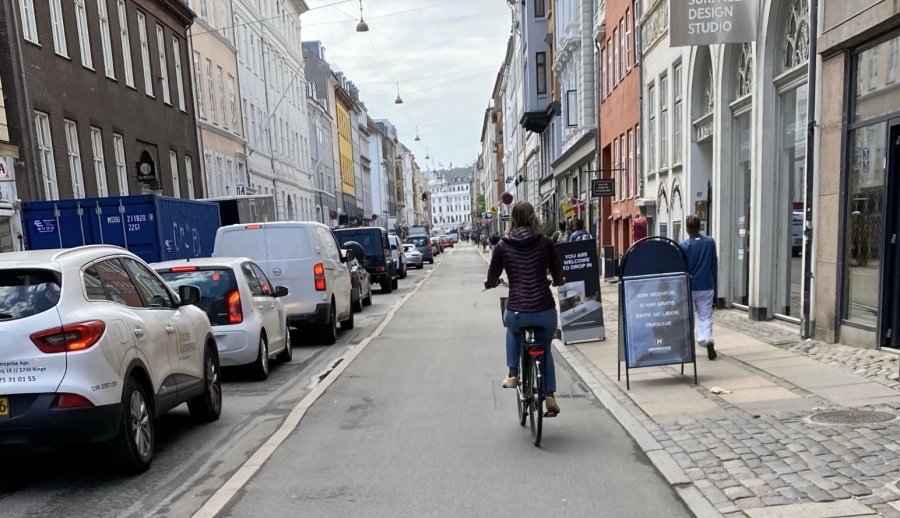 Andrew and I reflected on the feelings of joy and freedom we experienced when biking through Copenhagen. The transit consultant and author Jarrett Walker writes a lot about freedom as a benefit of good transit service, but it wasn't until coming to Copenhagen that I've fully experienced this sense of freedom for myself. In Copenhagen, no one has to think or worry about paying for a car, parking a car, insuring a car, or sitting in traffic. (As an aside, many people there choose to own cars anyway, but I'll save that topic for another post.)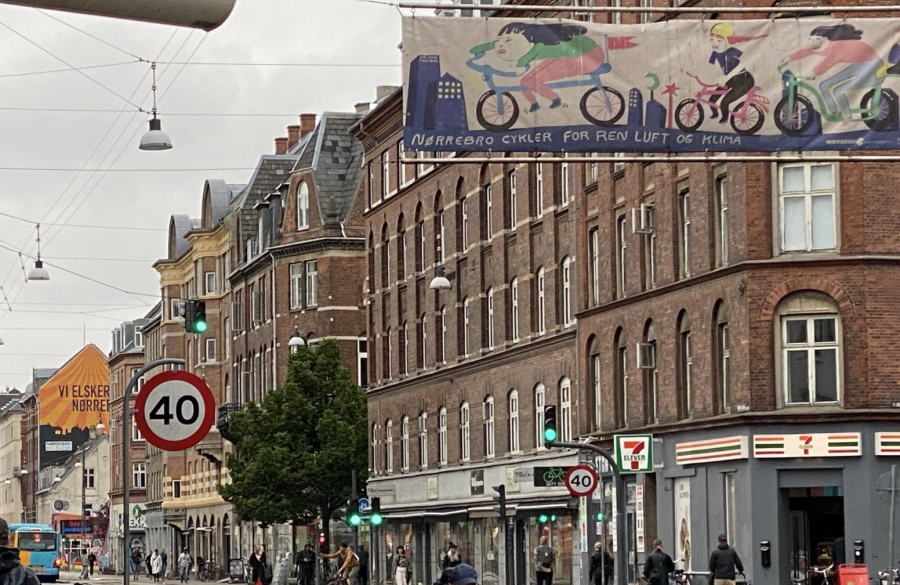 It's hard to comprehend until you've experienced it just how liberating it feels to get wherever you need to go, whenever, without a car. Yes, a lot of people live carefree in Portland or New York or other cities around the world, but what I experienced in Copenhagen is different. The bike network and transit network are faster, easier, cheaper, and as well-connected as any typical city's street network is for cars. The same cannot be said for Portland or New York. In Copenhagen you don't spend time waiting for a Metro train to come, because trains come every four minutes or less. You don't plan out your bike route because literally every single street in the city is safe to bike on, so if you miss your turn, you just turn on the next street.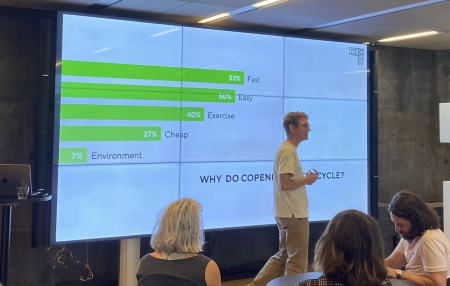 It's a transportation utopia. Biking there feels liberating, and that feeling of freedom leads directly to feelings of peace and relaxation in your mind and body. Riding a bike in Copenhagen is quite literally euphoric.
Freedom and joy aren't just incidental. They are intentional outcomes of public policy set by elected officials and bureaucrats over the past few decades. Danish government officials are quick to point to the recent past when cars ruled the streets and families were fleeing Copenhagen for the suburbs.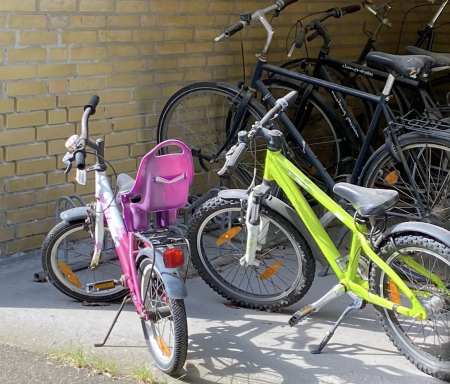 Government officials use the disciplines of urban planning, architecture, landscape architecture and civil engineering to develop and implement plans that cater to residents' needs while responding to the climate crisis. On the face of it, this is essentially the same approach we use in Oregon, but four things stood out to me about the Danish approach.
First, Danish planning efforts focus much more on the concept of livability than we do in Oregon. Making the city livable is as important as climate, safety and equity.
Second, as much as we emphasize climate change and climate adaptation in our planning, the Danes emphasize it that much more. They walk their talk. Climate (as with livability) is at the center of ever project.
Third, plans in Denmark are much more likely to be implemented. There is less planning for planning's sake. Plans lead directly to new infrastructure.
Fourth, and most important, the Danish public have a much higher degree of trust in all levels of government than what exists in the U.S. This is confirmed by public research polling and by comparisons of voter turnout and tax evasion between the two countries. Danes are generally happy to pay their share in taxes knowing that in return the government will provide an exceedingly livable built environment.
Context Sensitive Design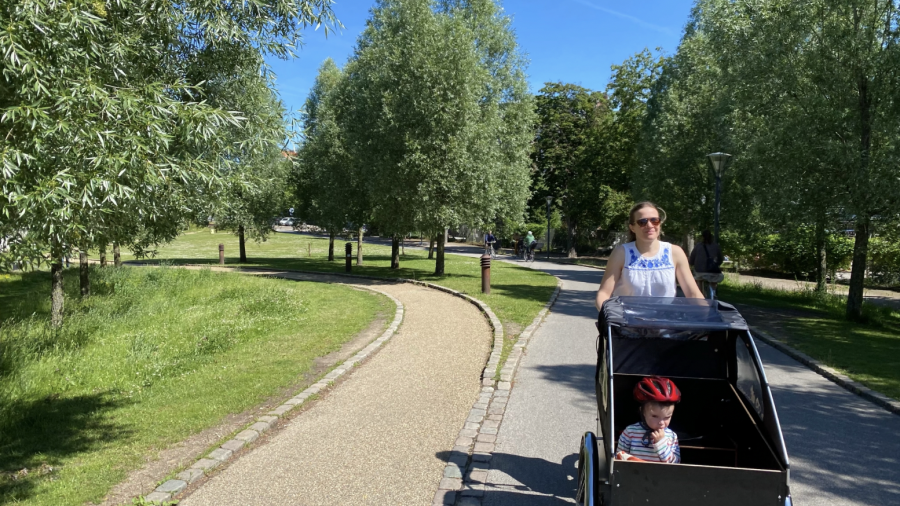 One last reflection to share before I finish up this post is the notion of context sensitive design. This is something we talk about a lot in the U.S. I heard the Danes talk about it, too, and I saw a ton of great examples of it. But I also saw a lot of cookie-cutter design where they clearly applied the same standard across various settings.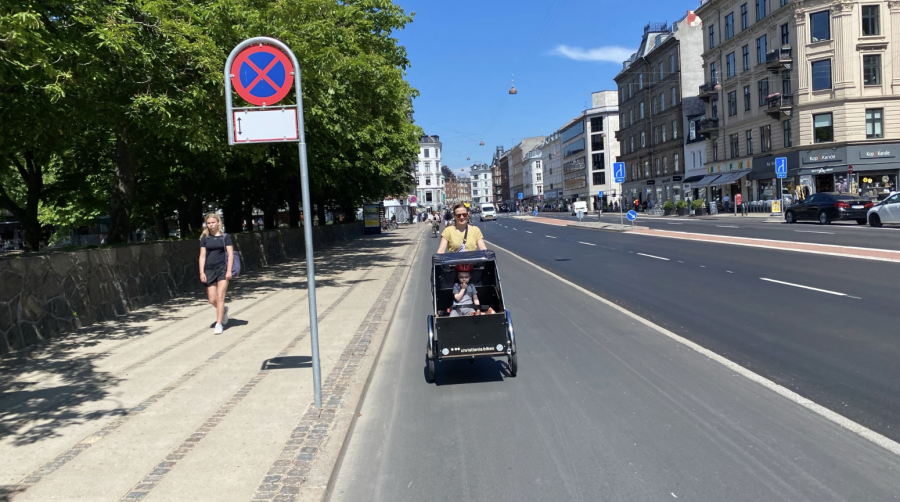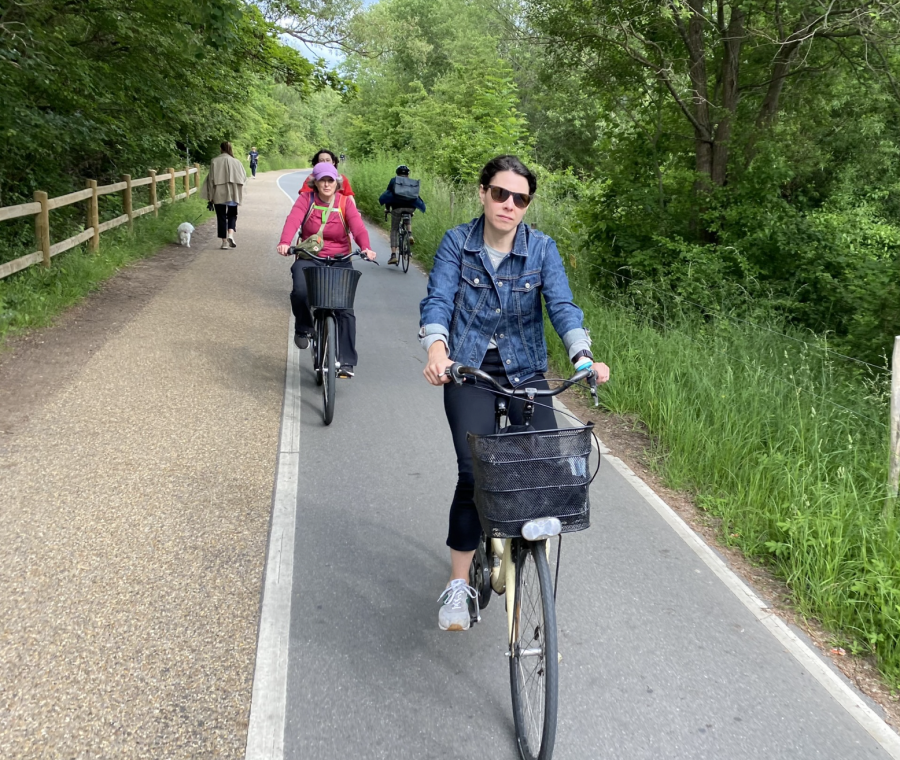 The Danish approach is pragmatic, recognizing that sometimes the context calls for a one-off, unique design, while other times an off-the-shelf approach is more appropriate, and that off-the-shelf approach is always one that's safe and comfortable for cyclists.