The 110th Rebildfest in Denmark
Jul 04, 2022
Read about the 110th anniversary of the Rebildfest in Denmark. This blog is in both English and Danish - scroll down for the blog in Danish.

"Bygerne går og kommer - det er den danske sommer ..." ("The showers come and go - it's the Danish summer ..."), Thøger Larsen's lyrics from 1914 in the song "Danmark, nu blunder den lyse nat" ("Denmark, now the bright night is falling") fit perfectly with this year's Rebildfest - 110 years after the first Rebildfest in Rebild Bakker in 1912. The very first Rebildfest was held in connection with the National Exhibition in Aarhus in 1909.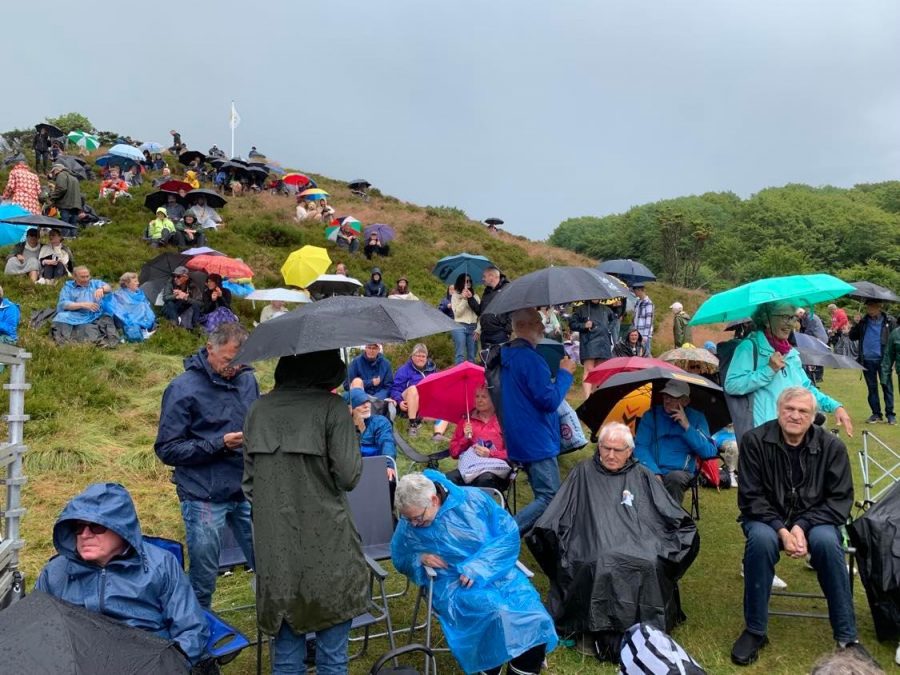 This year there were very heavy showers, and even though there was a single touch of sunshine between the showers, it became a very wet experience.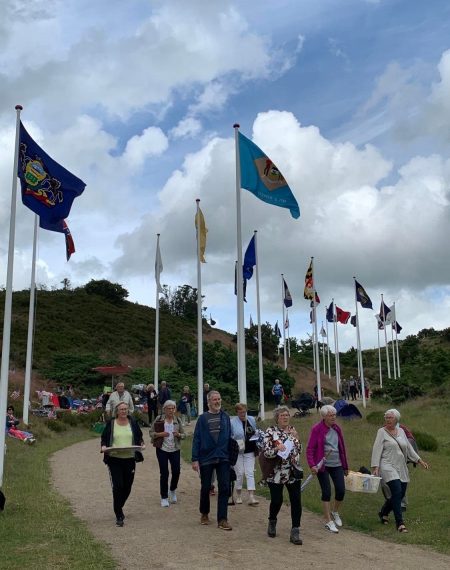 The program on U.S.A.'s Independence Day on Monday, July 4, 2022, was postponed for half an hour so that Queen Margrethe, who was the party's guest of honor, could get dry-shoed into a tent, from where she could then enjoy the entire afternoon's program without getting wet.
Despite the weather, many had found their way to the beautiful Rebild hills, where they settled down around the stage to enjoy the day's many speeches and entertainment. On the way down the valley to the grandstand, guests could enjoy the flags of the many beautiful American states on long flagpoles in the order in which the states were admitted to the Union. This year, new flags were purchased, which the Scan Design Foundation, among others, has sponsored.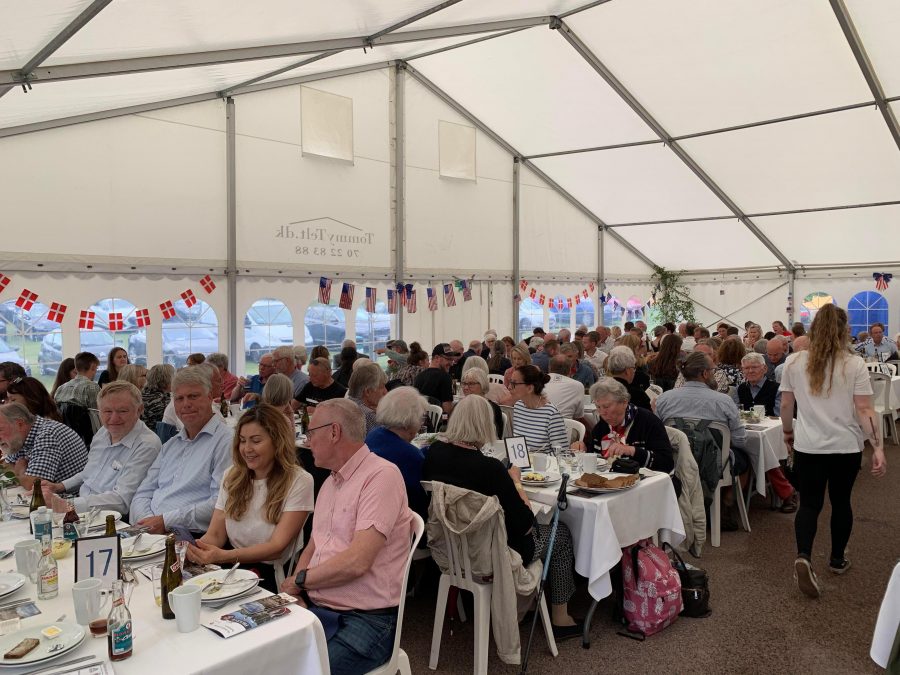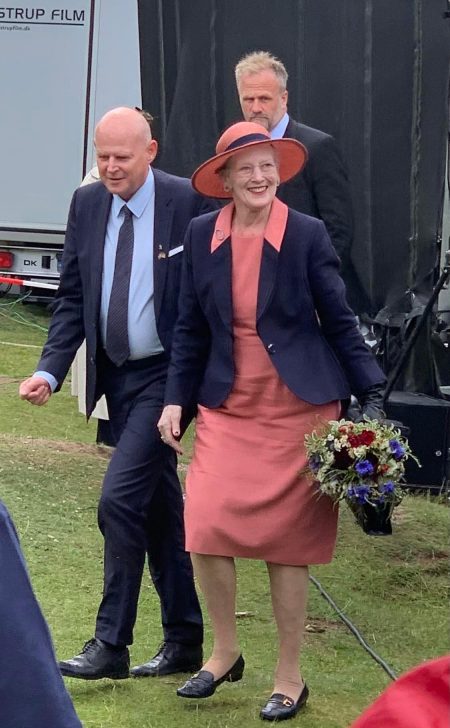 After the Queen's arrival at the party place, there was a flag-raising ceremony. There were some problems with Dannebrog, so after singing "Kong Christian stod ved højen mast" ("King Christian stood by the high mast") and "The Star Spangled Banner", Dannebrog had to be taken down again and be corrected before the beautiful flag could flutter in the wind together with the Stars and Stripes.
The Master of Ceremonies was Anne Kejser, who handled the task in the finest way. Anne Kejser began the day by asking everyone to hold a minute's silence in honor of those killed in Sunday's shooting in Field's in Copenhagen. The tragedy was given attention several times during the day as the thoughts were directed toward those whose lives had been affected by the terrible incident.
Bishop Thomas Reinholdt held the day's prayer before the stage was given to the president of the Rebild Society, Jørgen Bech Madsen, who welcomed H.M. Queen Margrethe II and all from the United States and Denmark who gathered to mark the friendship between the two nations. The president welcomed the reunion of the Hills once again - after two years of corona restrictions. He stated, among other things, that this year scholarships will be awarded to 8 young students who are going to the USA to study further. Each of the young people received 25,000 kroner.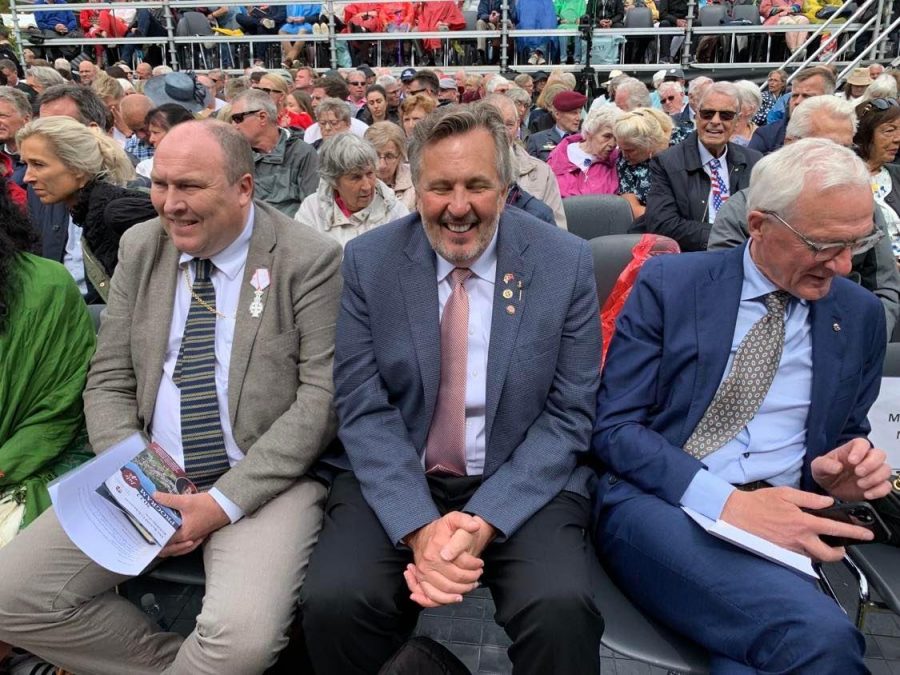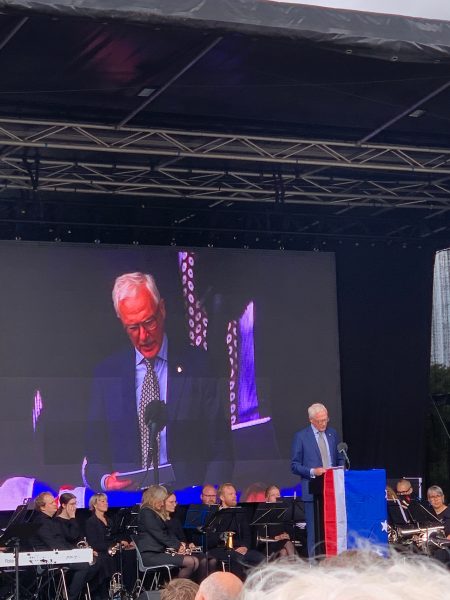 After the president's welcome, there was a joint song before the Danish keynote speaker, businessman Jens Bjerg Sørensen, spoke. Jens Bjerg Sørensen has been CEO of the Danish listed industrial conglomerate Schouw & Co since 2000. In addition, he is chairman of a number of companies, including the Salling Foundations and Danfoss. Jens Bjerg Sørensen is a very experienced businessman, who heads Schouw & Co, which has 60 factories in 30 countries, including the USA. Jens Bjerg Sørensen began his speech by telling about how he as a very young man got a big position thrown at him because the boss believed in him and thus gave him a huge chance. He has always been inspired by the American philosophy "If you can dream it, you can do it!" His attitude is people before earnings and trust in employees - which in the long run gives the best profit. The 3 biggest values to meet are mutual inspiration, security, and trust.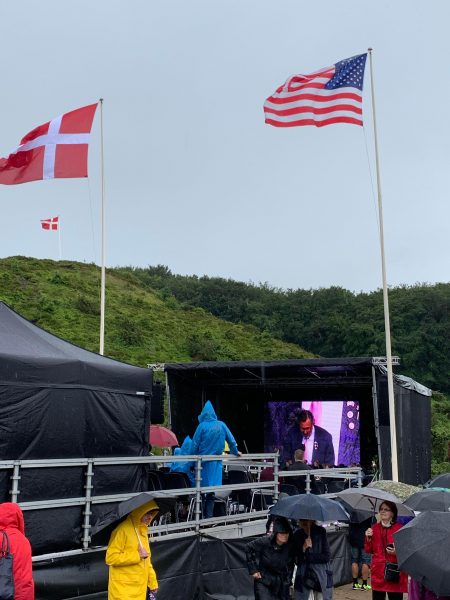 The American ambassador, Alan Leventhal, had taken up the post as ambassador on July 1st, so apart from greeting the queen the day of his appointment as ambassador, his first official task was the Rebild party. He mentioned, among other things, the strong friendship between Denmark and the United States and pointed out that Denmark is the country with which the United States has the longest unbroken diplomatic connection. Alan Leventhal also read out a greeting from U.S. President Joe Biden.
For the Rebildfest, it is a tradition that a Danish and an American speech are delivered. The American speech was delivered by Anders Agner and Casper Phillipson. Anders Agner told the story of the iconic speeches given by John F. Kennedy, after which Casper Phillipson formally reproduced the speeches. As a surprise, Casper Phillipson read a piece of the speech that J.F. Kennedy never managed to hold on November 22nd, 1963 in Dallas, Texas.
The Danish government's greeting to the Rebildfest was conveyed by Minister of Defense Morten Bødskov, and co-founder and president of the National Foundation for Danish America, Bruce Bro, brought a warm greeting from the Danes in the United States. This year's young speaker was Rune Petersen.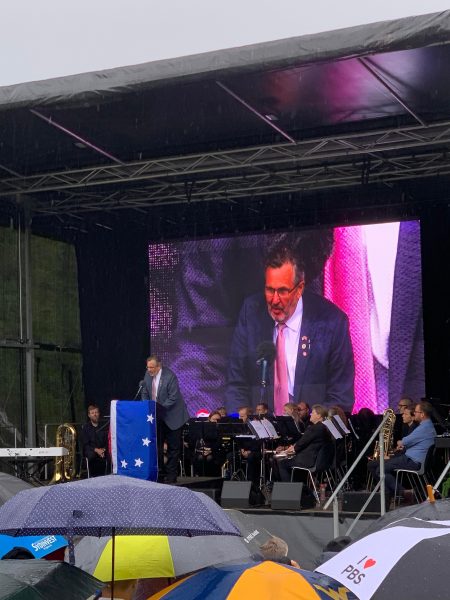 After the last speeches, Queen Margrethe left the Rebildfest while the Northwest Jutland Brass band played. The last feature of the day was a concert with the famous Danish artist, Jacob Dinesen.
Unfortunately, Scan Design Foundation's local representatives were so wet and cold, that they didn't stay for the departure of the Queen and the concluding concert and speeches.
The Rebild afterparty was in the new Lincoln Log Cabin. The first log cabin was built in 1934 below the Cimbrian Hill, but in 1987 it was moved one beam after another was taken apart, numbered, and moved to its current location at the entrance of the national park. In 1993, the log cabin burned to the ground, but the year after a new log cabin was built. The new cabin was built in the State of Washington, and then taken apart and transported to Denmark ready to assemble. This new cabin log was ready at the Rebild celebration in 1994, which was exactly 60 years after the first cabin was built. The new cabin log is almost identical to the old one.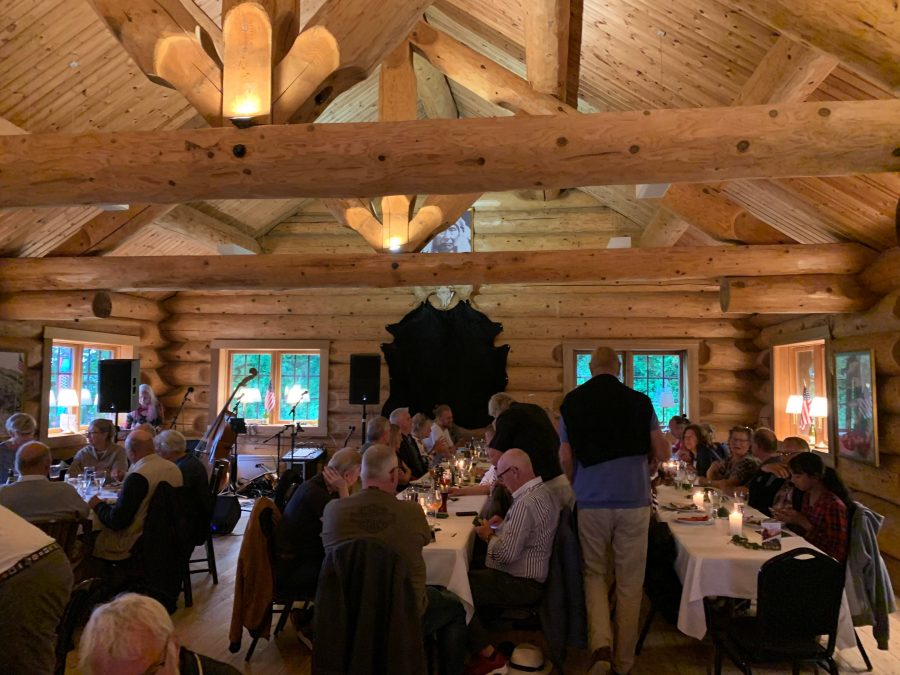 Guests mingled and enjoyed reconnecting in person for the festivities in the Rebild hills and spirits remained high despite the puddles.
---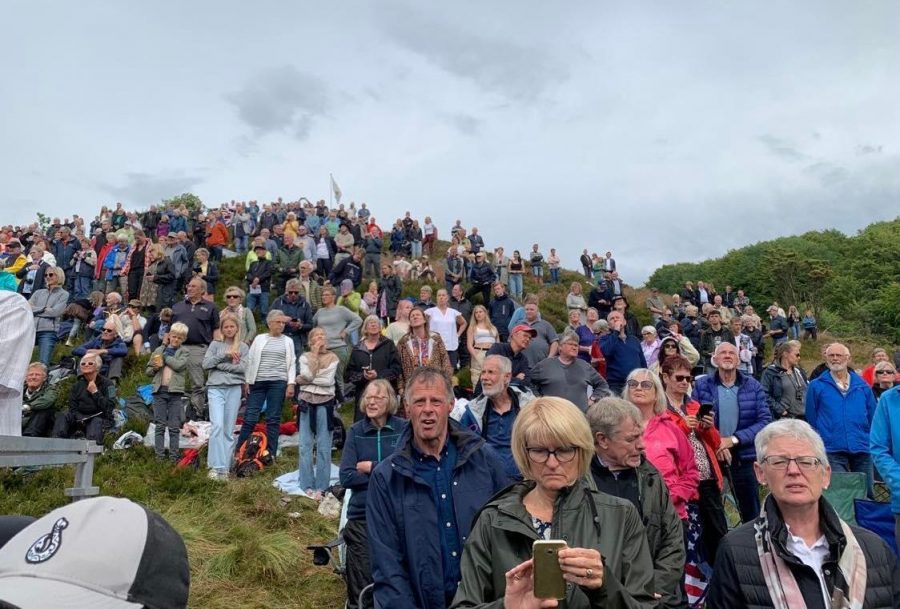 Rebildfesten 2022 (Blog in Danish)
"Bygerne går og kommer - det er den danske sommer ..." Thøger Larsen's tekst fra 1914 i sangen "Danmark, nu blunder den lyse nat" passede helt perfekt til dette års Rebildfest - 110 år efter den første Rebildfest i Rebild Bakker fandt sted i 1912. Der kom meget kraftige byger, og selvom der ind imellem bygerne kom et enkelt solstrejf, blev det en meget våd fornøjelse. Den allerførste Rebildfest blev afholdt i forbindelse med Landsudstillingen i Århus i 1909.
Dagens program på den amerikanske uafhængighedsdag mandag den 4. juli 2022 blev udsat en halv time, så Dronning Margrethe, der var festens æresgæst, kunne komme tørskoet ind i et telt, hvorfra hun derefter kunne nyde hele eftermiddagens program i tørvejr.
Trods vejret havde rigtig mange fundet frem til de smukke Rebild bakker, hvor man slog sig ned omkring scenen for at nyde dagens mange taler og underholdning. På vej ned i dalen til tribunen, kunne gæsterne nyde de mange smukke amerikanske stats flag i den lange flagalle i den rækkefølge staterne er optaget i Unionen. Der var i år indkøbt nye flag som blandt andet Scan Design Foundation har sponsoreret til.
Efter Dronningens ankomst til festpladsen, var der flaghejsning. Der var lidt problemer med Dannebrog, så efter man havde sunget "Kong Christian stod ved højen mast" og "The Star Spangled Banner", måtte Dannebrog ned igen og rettes til, inden det smukke flag kunne blafre i vinden sammen med Stars and Stripes.
Dagens Konferencier var Anne Kejser, som klarede opgaven på fineste vis. Anne Kejser indledte dagen med at bede alle holde et minuts stilhed til ære for de dræbte i gårdagens skyderi i Field's i København. Søndag aftenens hændelse fik opmærksomhed flere gange i løbet af dagen, hvor tankerne blev rettet mod dem, hvis liv er ramt af den frygtelige hændelse.
Biskop Thomas Reinholdt holdt dagens bøn inden ordet blev givet til præsident for Rebildselskabet, Jørgen Bech Madsen, som bød velkommen til H.M. Dronningen og til alle fra USA og Danmark, der var samlet for at markere venskabet mellem de to nationer. Præsidenten glædede sig over at man igen - efter to år med corona-restriktioner - igen var samlet i Bakkerne. Han oplyste blandt andet at der i år ville blive uddelt legater til 8 unge studerende, der skal til USA for at læse videre. Hver af de unge modtog 25.000 kroner.
Efter præsidentens velkomst var der fællessang inden den danske hovedtaler, erhvervsmand Jens Bjerg Sørensen fik ordet. Jens Bjerg Sørensen har været administrerende direktør i det danske børsnoterede industrikonglomerat Schouw&CO siden 2000. Ved siden af er han bestyrelsesformand for en række virksomheder, blandt andet Salling Fondene og Danfoss. Jens Bjerg Sørensen er en meget erfaren erhvervsmand, som står i spidsen for Schouw & Co, der har 60 fabrikker fordelt på 30 lande, herunder USA. Jens Bjerg Sørensen indledte sin tale med at fortælle om hvordan han som ganske ung fik en stor stillling "smidt i hovedet", fordi chfen troede på ham og dermed gav ham en kæmpe chance. Han er altid blevet inspireret af den amerikanske filosofi "If you can dream it, you can do it!" Hans holdning er mennesker før indtjening og tillid til medarbejderne - hvilket på langsigtet vis giver den bedste profit. De 3 største værdier, efter Jens Bjerg Sørensens mening er, gensidig inspiration, sikkerhed og tillid.
Den amerikanske ambassadør, Alan Leventhal, havde tiltrådt stillingen som ambassadør den 1. juli, så bortset fra at have hilst på dronningen, da han var i audiens, var hans første officielle opgave nok Rebildfesten. Han omtalte blandt andet det stærke venskab mellem Danmark og USA og påpegede, at Danmark er det land, som USA har den længste ubrudte diplomatiske forbindelse til. Alan Leventhal oplæste også en hilsen fra den amerikanske præsident, Joe Biden.
Til Rebildfesten er det tradition, at der bliver leveret en dansk og en amerikansk tale. Den amerikanske tale blev leveret af Anders Agner og Casper Phillipson. Anders Agner fortalte historien om de ikoniske taler, John F. Kennedy holdt, hvorefter Casper Phillipson formfuldendt gengav talerne. Som en overraskelse læste Casper Phillipson et stykke op af den tale, som J.F. Kennedy aldrig nåede af holde den 22. november 1963 i Dallas, Texas.
Den danske regerings hilsen til Rebildfesten blev overbragt af forsvarsminister Morten Bødskov og co-founder og president for National Foundation for Danish America, Bruce Bro bragte en varm hilsen fra danskerne i USA. Årets unge taler var Rune Petersen.
Efter de sidste taler forlod Dronning Margrethe festpladsen mens Nordvestjysk Brass band spillede. Dagens sidste indslag var en koncert med den meget populære danske kunstner, Jacob Dinesen.