The University of Washington Furniture Studio
Feb 09, 2022
Adaptations in 2020 and beyond by a classic studio offering at University of Washington College of Built Environments funded by Scan Design Foundation
2020 was a year that shifted how we did most things. This was no different for Associate Professor Kimo Griggs and his Furniture Studio, sponsored by Scan Design Foundation in the University of Washington College of Built Environments.
During the winter of 2014, two outstanding and long-standing Seattle furniture traditions were brought together when Scan Design Foundation funded the Furniture Studio in the UW Department of Architecture, as part of the Scan Design Distinguished Guest Studio series.
The furniture studio is typically taught for five hours a day, three days a week.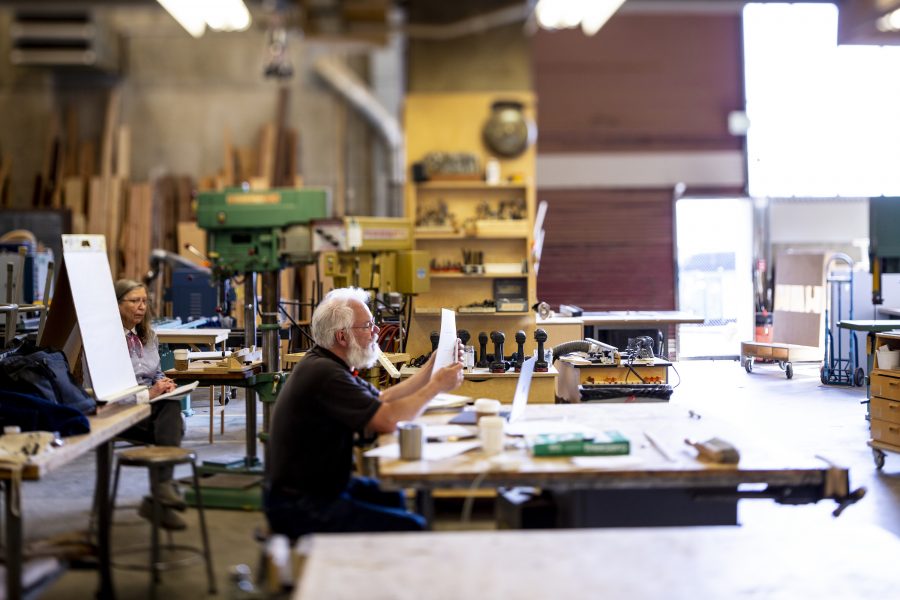 "It's a normal architectural studio, though it starts an hour earlier because we have a lot to go over. In addition to the normal design, design- development, and production of drawings, we learn how to use tools, develop production strategies and actually produce the furniture, which is unusual for a studio."
Students had access to the Fabrication Lab 24 hours a day, seven days a week. The FabLab's power tools weren't available when staff was not present, but the space was treated as a design studio, helping students dive deep into their work while developing a close camaraderie during the quarter.
Students were expected to develop the same architectural strategies as in any design studio, producing sketches, small models, and whatever else it takes to develop an idea into a design. As the design process moved further, full-scale prototypes were produced to test comfort and shaping while joinery and material choices began to be developed. These prototypes were reviewed, quickly developed further, and reviewed again.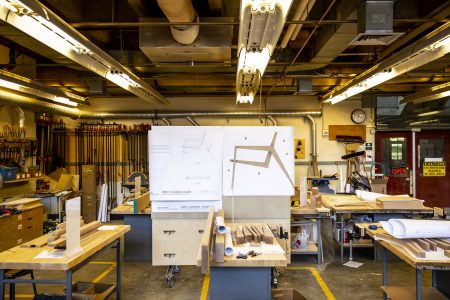 The first full-scale prototypes are often "comfort models" made using two-by-fours and plywood, quickly and simply screwed or glued and clamped together to produce something "good enough" from which to draw conclusions. They are often quite unattractive, and many are not usable, but they act as inspiration and proof of concept for the final designs. Full-scale comfort mockups allow the body to experience how it will interact with the furniture – how arms sit on armrests, how the angle of a seat and back hold the body, and what size all of the parts must be to suit a particular individual.
Following the comfort model process, full-scale prototypes were built to fully express design values. Griggs says they begin to look like the actual pieces of furniture but are still just two-by-fours, screws, and a little glue. Then midway through the course, with fully-realized preliminary designs, students were put in front of reviewers to receive useful, friendly feedback to help finalize their designs.
Then it was time for the build.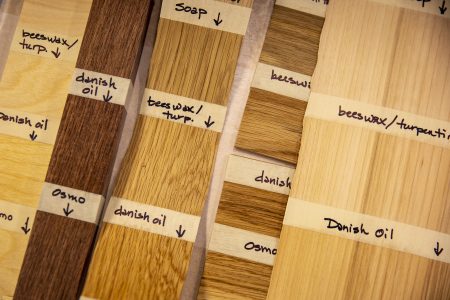 Griggs took the students shopping for materials in person – the first and only time the class met outside of a flat screen. Metal, wood, boards and slabs — it was all up for grabs. Together, they talked about size, quality, grain, and other characteristics. Griggs noted that sometimes shopping causes design changes as students get inspired or deterred by the available material options and expense.
They find things that either inspire them, or that they realize won't actually satisfy their design intentions. Sometimes they can't get the material they thought they could, so they get something else and then work with that. That's very much like what happens in architecture, when you discover you can't get those steel beams right now because the forces at play have priced them out, so you've got to move to a concrete element or a wooden element instead. In that way, it's quite realistic.
Adapting to Virtual Environments in 2020-2021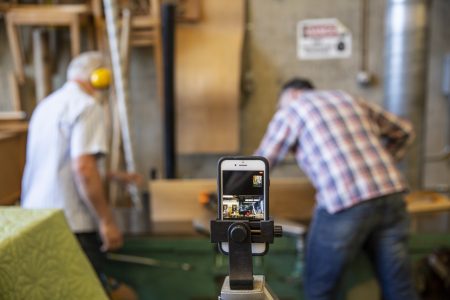 The pandemic cast doubt on whether the studio would occur, but Griggs says the necessary changes that would allow success were obvious. It wasn't clear at first if anyone at all would be allowed on campus, but when it was determined that staff were allowed there, Griggs knew he had a good chance to model something new – something that would produce results equal to earlier studios, but through a different process.
"I had thought for a long time that we should be doing this for our students. In modern practice, very few architects design and make their buildings. And actually, very few furniture makers design and make all of their furniture. Most design the furniture, perhaps making a prototype, and have someone else build it. The tools and processes they use have changed – producing hand drawings and then meeting with somebody and working with them on prototypes and getting feedback has changed to producing digital models that are sent via the web – you might send files to Lithuania, or to Southeast Asia or China or Brazil or maybe some other part of the country – but you don't have the same kind of relationship, generally speaking, of being able to go down the street in your same city and talk to a woodworker or a metal fabricator who's producing your furniture."
Designing through digital modeling has long been a well-established practice, which Griggs says they were not teaching students. The furniture studio had been a bit "old school." However, COVID provided an opportunity to update how they were teaching the course, and to give the students a model of what they would experience after graduating.
Reframing COVID as an opportunity for change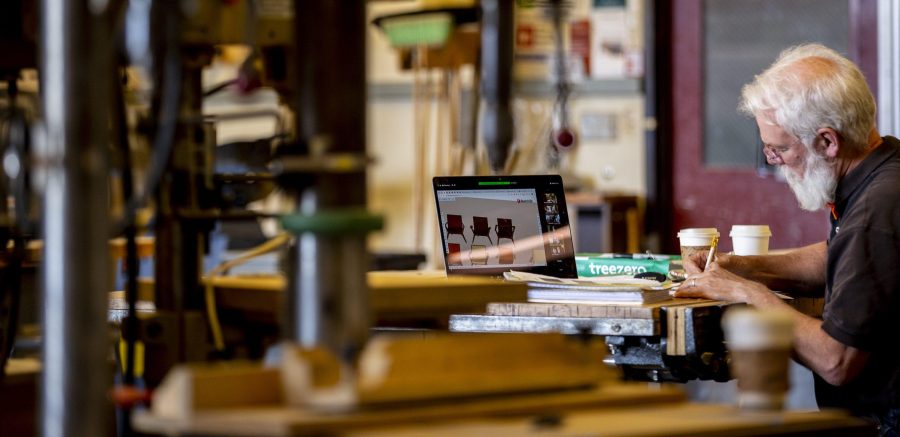 Griggs used the onset of COVID protocols as an opportunity to give students more of a "real world" experience. While that might sound counterintuitive in a virtual setting, he explained that the first half of the studio has always involved drawings, sketches, models, and rough, full-scale mockups – work students could do at home if they had the tools and supplies. He put together tools kits for each student – a knife, cutting mat, a set of chisels and rasps, a small hand-plane, a jig-saw, a drill, a few clamps, and a few other critical items. Most students were able to pick up boxes of tools without human contact, either from the Gould Hall loading dock or from Grigg's garage – nicknamed "Kimo's Kornercopia." Griggs also provided other supplies and materials – large sheets of cardboard, plywood, 2x4s, screws, and glue. He was able to do so through the generosity of the Scan Design Foundation, taking advantage of funds that were not being used for travel and housing by the Danish "visiting" faculty.

During the first few weeks, Griggs met students during class on Zoom, with his colleague and co-instructor Erling Christoffersen joining them online from his home in Denmark. Screen sharing helped everyone to communicate effectively, and digital cameras and smartphones provided a variety of ways for information to be presented and examined in real-time.

"Some people were making flat drawings by hand, some people were using Rhinoceros to make 3-D digital models, some were making physical models – but all it led to high-quality roundtable discussions."
Griggs created demonstration videos — pre-recorded and time-lapse — that were uploaded to a shared Google Drive folder so students could watch asynchronously as well.
Griggs and Christoffersen provided information about the qualities of wood, metal, joinery, hardware and more, via their own hand-drawn sketches, to arrive at possible solutions in concert with students. Griggs and his staff also began to act as vendors – creating the parts and assemblies designed by students to bring their work to fruition when the work was too complex to be done at home with simple hand tools. He was able to teach effectively through real-time discussion, follow-up emails, and Zoom to show students different types of wood and metal, different possible configurations, and different ways forward. Students could see and compare materials qualities, building strategies, and final appearances in order to develop their designs.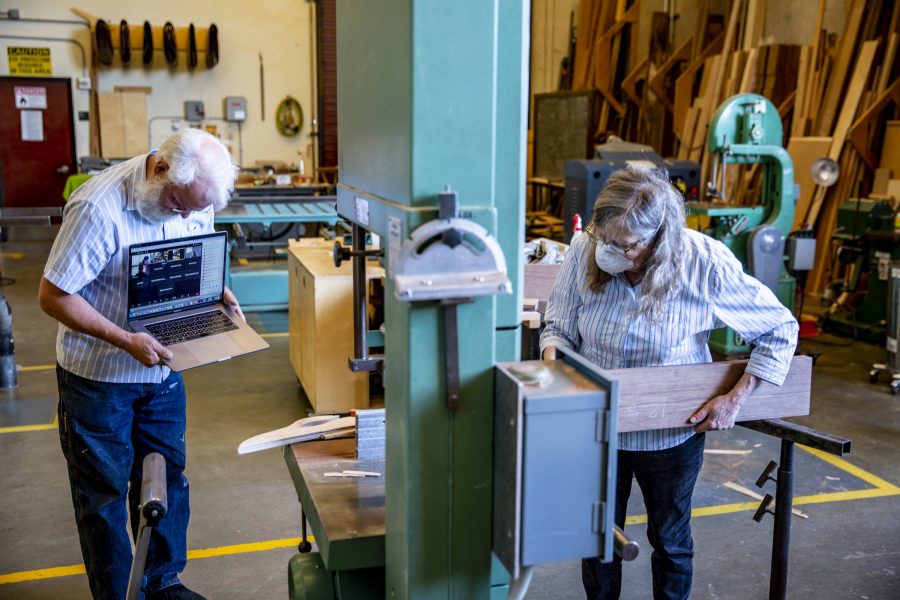 The tools given to each student allowed them to produce their full-scale comfort models and prototypes at home. When more materials were needed, Kimo's Kornercopia could be accessed without any human interaction.
Initially, students were disappointed that they were missing out on the experience of being in the lab, but after a few weeks they were excited about getting to experience the studio in a different way. Another advantage of teaching virtually was that some students were inspired to learn new software to design digital models – a new technique of design and manufacture – while other students produced simple line drawings. All of them, however, had to send files that could be plotted at full-scale to guide the final steps when Kimo and his staff turned into vendors – interpreting the designs and actually producing the final parts and assemblies, using the materials purchased by students at mid-quarter.
"Just like you would in real life when you work in an office, you're going to have other people making your parts for you. You get to review them. You might actually do some work on them. You get to make prototypes and maybe some design changes. So we worked together, just like you would in a professional setting. We became their craftsman."
On occasions when drawings weren't easily translatable, Griggs and the team began a back and forth conversation with students to discover exactly how each piece should be produced. Some designs required only that parts be produced, which were then assembled by the students. Other designs required the entire piece to be produced, aside from the finishing touches. The process provided multiple opportunities for Griggs and his staff to model how designers and architects might have their work interpreted by a craftsperson or builder, filtering it through their own knowledge and experience to improve the design or to make it workable. This process ensured that students experienced the kind of back and forth communication embodied by the design process.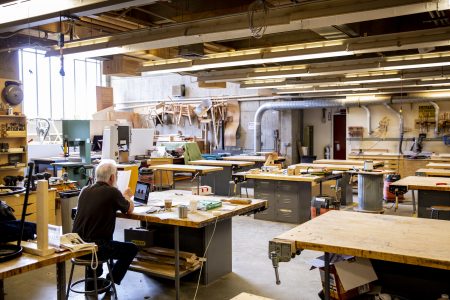 And all this was being Zoomed so the students could watch us individually, while we worked on their parts and their pieces – and the rest of them could Zoom in if they wanted to, or just keep it on in the background. Every once in a while, they'd chime in and give each other a good-natured ribbing. It was fun.
"At the end of the day, we had 10 beautifully completed, virtually finished pieces."
Students were asked to design what is called "knockdown furniture": furniture that can be disassembled, shipped in a box, and then put together by someone else. For this studio, they were asked to design a chair. Materials used varied from canvas, to strings, to solid wood. At the culmination of studio, Griggs invited reviewers from all over the world to critique the 10 unique designs.
What the studio looked like in 2021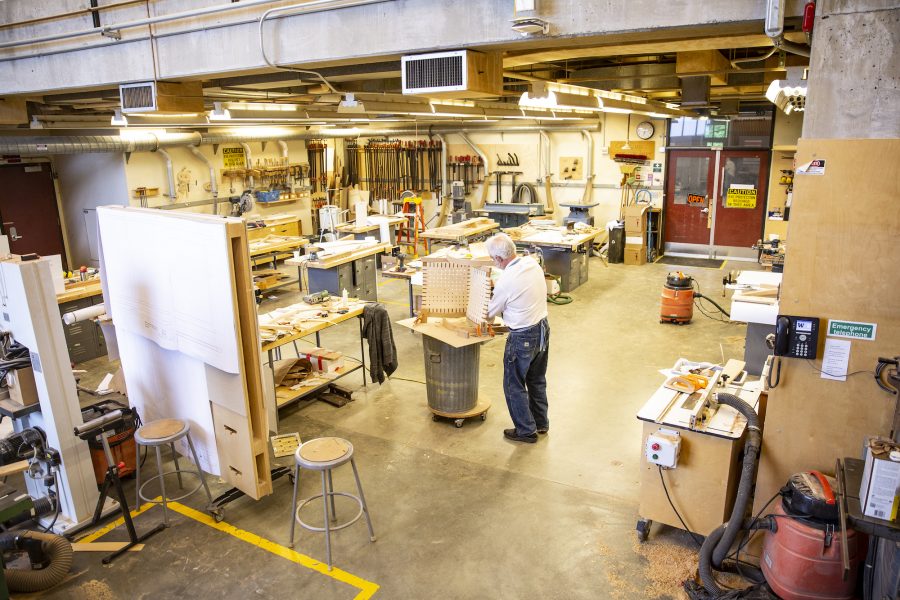 Approaching the 2021-2022 academic year, and anticipating in-person instruction, the studio looked a bit different. Since they have a large, open studio space, Griggs and his students were given permission to try a partially in-person option. A limited number of the 12 students, four at a time, were allowed in the labs and staggered in 1.5-hour increments, rather than having a solid block altogether from 12:30pm to 5:30pm to work. Tools were again given to all students to use in studio spaces outside the FabLabs, and they gradually filled Gould Court during the Spring quarter – which was possible as they were virtually the only users in the building. This equipped them to continue working when they were not in the Labs, and to focus their time in the Labs on just what they needed power tools to accomplish. It did mean that Griggs and his staff had to repeat demonstrations and other things two or three times with each smaller group – but this repetition was necessary, and clearly valued by the students.
A separate studio space in which all students had desks featured a large monitor that allowed students to experience lectures, demonstrations, and reviews as they were working, even when not allowed in the labs. In the end, communication between the Lab, the studio, and Denmark was seamless.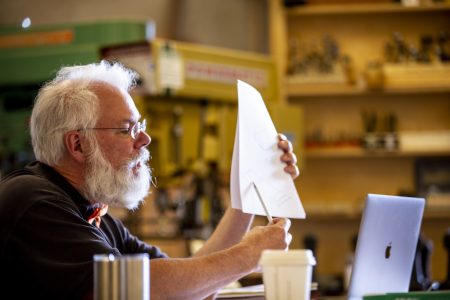 "People often don't like to change, or they get comfortable with what they are doing and some of them adopt what amounts to a belief system that it is healthy to question now and again. I feel as though we ought to be leading the way whenever possible, not following or standing still. These studios really helped show that we can offer something new and that we can lead, and I think the student experience really benefited from that."

-Kimo Griggs, Professor of Architecture
Original article is by University of Washington College of Built Environments (2022): Furniture Studio
Discover more about Furniture studio and the partnership between the UW College of Built Environments and Scan Design Foundation on our new website.