It Takes a Village (And a Bunch of Norwegians)
Nov 03, 2022
Anders Jørgensen is in the Scan Design Foundation Danish Intern Exchange Program at the Museum of Danish America during the second half of 2022. Read his blog about his trip across Iowa as a Danish intern to interview people who have impacted the Museum.
One of my projects during my Scan Design Foundation internship at the Museum of Danish America is conducting a series of interviews with a long line of people who have shaped and impacted the museum in different ways. These interviewers will be a part of the Museum of Danish America's 40th anniversary next year. So, this week I traveled to Decorah, Iowa, to interview two former board members, while also returning an exhibition to the Vesterheim Norwegian-American Museum.
After a drive of about five hours from Elk Horn, Iowa, I arrived in beautiful Decorah. The town of Decorah is located in the Driftless Area, which comprises northeastern Iowa, but also southwestern Wisconsin and southeastern Minnesota. The region was never covered by ice during the last ice age, which shaped its geologic characteristics: steep hillsides, narrow valleys, bluffs, and forested ridges. Also, when I visited, fall was arriving, which created beautiful shades of brown and orange in the trees.
Decorah made national news with the Decorah Bald Eagles website, where you could watch live streaming of a bald eagle nest. As such, spectators could see eagle parents feed their children, and protecting them from predators and harsh weather. The Decorah Eagles became an Internet phenomenon and was the most viewed live-stream of all time when the website reached 250 million views on Ustream in 2011, with roughly 2.4 million views per day.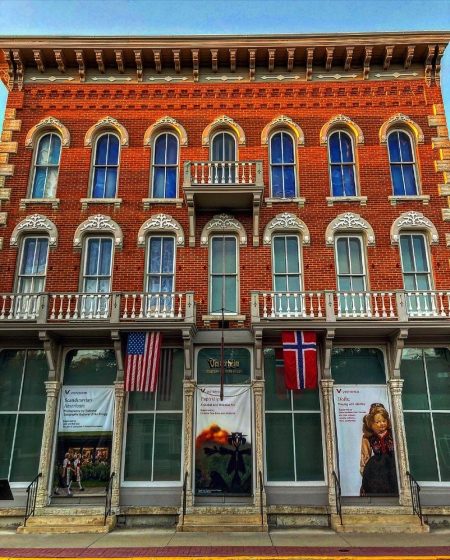 Anyway, back to my trip. My first stop was at the Vesterheim Norweigan-American Museum, where I had a guided tour after I returned the items. My favorite exhibition was a dolls collection, which included a set of Barbie dolls with a Norwegian twist, but I also enjoyed the rosemaling displayed. Rosemaling (rose painting) is the decorative folk art of rural Norway that flourished in the 1700's and 1800's, but continues to survive in Decorah due to its folk art school where participants can take different art classes. Also, having worked with a lot of the Museum of Danish America's history during my internship, it was quite interesting to experience Vesterheim, as many of our founders were inspired by this Norwegian gem in the corner of northeast Iowa.
In the 1850s Decorah became a center for Norwegian-American culture. A few years later, in 1861, Luther College, a Lutheran liberal arts institution, was established. In 1877, the Norwegian-American Historic Museum (later Vesterheim, meaning "western home" in Norwegian) was created, thereby solidifying the area's Norwegian heritage – a heritage that still deeply impacts the town as evidenced by the annually Nordic Fest celebrated each July, but also by the various statues, businesses and sports teams associated with Viking culture. My favorite was a Viking with a pie, which I found quite cool.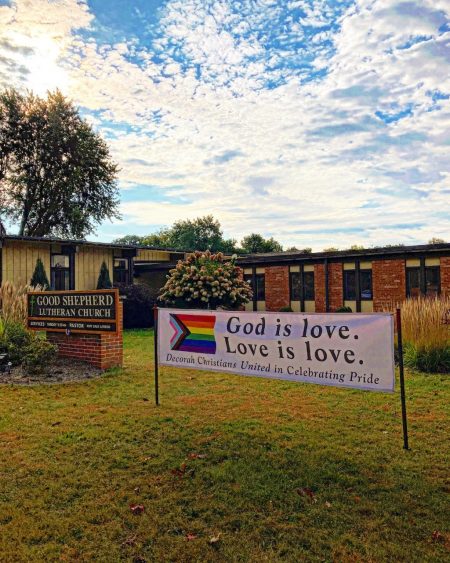 After my visit to the wonderful Vesterheim museum, I went out to explore Decorah's downtown area. I visited during Decorah Pride Festival, so most of the city was covered in lovely rainbow flags and a lot of interesting events was taking place.
Normally, June is the traditional month for LGBTQA+ Pride festivals, commemorating the June 1969 Stonewall riots in New York City. However, in Decorah, it was rescheduled in order to ensure that Luther College Students were back on campus and could participate in the festivities.
This meant that I had a chance to enjoy my first drag show experience at a local arthouse. The performers were locals and Luther students, and they did a magnificent job. I enjoyed the music, the costumes, the makeup, but what truly made an impact was the self-confidence and how they embraced themselves, being their best version. I truly admire their inspiring might.
My driving around the Midwest has made me realize how much a significant majority of small-towns are struggling economically. However, the combination of energetic college students, dedicated citizens, and a vibrant and healthy Main Street business community has shown to be a great recipe for success in Decorah.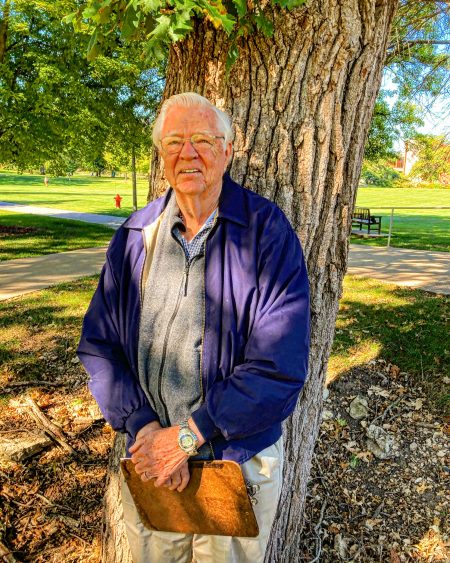 My interviews also went well. I met up with 89-year-old Jim, who took me on a walking tour of Luther College. Earlier in his life Jim served as president of our board. I must admit, that it simply astonishes me that Jim was born two months before Franklin D. Roosevelt's first term as president – yet Jim is as fresh and sharp with details as ever before. Also, Jim was influential in getting the campus listed on the National Register of Historic Places, which succeeded in 2021. It turned out that Jens Jensen, a renowned Danish-American landscape architect, did a full landscape plan for Luther College in 1911. With great passion, Jim expanded my knowledge of Jensen. Most of Jensen's works were landscapes for people's homes, including Henry Ford, and city parks, the most famous examples can be found in Chicago. However, Luther College is the only college he did a landscape plan for.
Also, it is quite appropriate that the Museum of Danish America now has a look somewhat similar to Luther College in that Jensen's legacy is well represented by the relatively new parts of the Museum grounds which reflect his ideas in landscape architecture. The Jens Jensen Prairie Landscape Park, installed in 2012, is named after this Danish immigrant who ended up becoming one of America's most important landscape architects.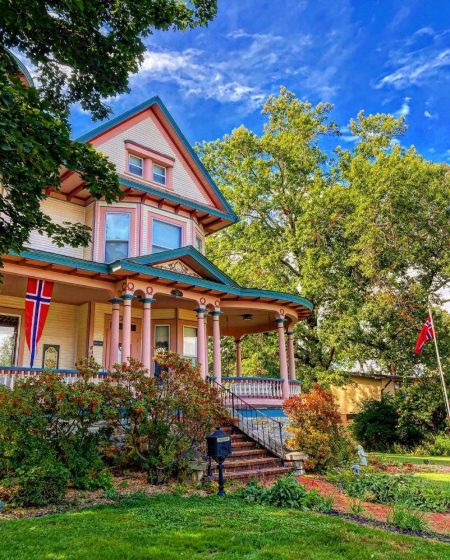 I also enjoyed a lot of hiking as the Driftless Area provides a lot of scenic beauty very close to Decorah. One of Iowa's best hidden treasures is Dunning's Spring Park, which is home to a lovely 200-foot waterfall surrounded by trees and limestone cliffs. I also visited the nearby Ice Cave, which according to locals, gets its name from layers of ice that form every year in January and last through August. There was no ice when I visited, but it was still really cold. The cave was really captivating, and quite frankly, a bit spooky. I must have watched too many horror films, because I imagined some kind of troll living deep down in that cave. Anyway, some people say that Iowa is flat and only consists of cornfields, but they have been to hilly Decorah (or the Loess Hills of western Iowa for that matter).

I was hosted by wonderful friends of the museum, for whom I am very happy to have met. Their home was located in an area filled with historical homes, but also access to Phelps Park, another source of wonderful hikes. Walking around the neighborhood was wonderful and I felt like I was walking in a film set, and I loved the combination of picture-perfect small-town America mixed with Norwegian culture.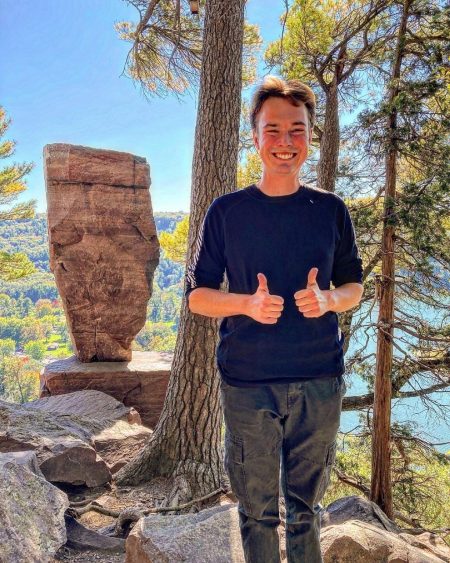 As Decorah is located close to the border of Wisconsin, I also ended up doing a day trip to Devil's Lake State Park. My last trip to Wisconsin was back in the end of July, and America's Dairyland really made an impact on me, so it was wonderful to get back.

Devil's Lake State Park is the largest and busiest state park in Wisconsin and offer unmatched beauty with its super cool cliff and rock formations. Some of them truly looks out of this world with their clean, sharp edges. The park is also part of the Ice Age National Scenic Trail, which is a thousand-mile footpath that highlights glacial landscape features. Around 16 miles of this trail is located in Devil's Lake State Park. However, be warned, the many quartzite rock formations can be quite slippery.
After hiking, I went to Sauk City to visit the original Culver's, which opened in 1984. This Wisconsin icon has long been a favorite of mine, and it was a great way to end a great weekend with another milestone of my Midwestern pilgrimage.
Follow along as Anders experiences the U.S. as a Danish intern this Fall by reading the Intern Blog from the Museum of Danish America.