KD i DK - Krista Doersch in Denmark
Nov 30, 2020
Til roning klar (ready to row)
I first visited Copenhagen through the ScanDesign Interdisciplinary Master Studio in 2018. On one of the first days of the study tour, accomplished urban cycling expert Lars Gemzøe, led us on a bike tour around the Harbor Circle. Along the way, the familiar sight of rowers carrying long oars caught my eye at Københavns Roklub, a brick building with modest details surrounded by modern apartment buildings. So when I returned to Copenhagen again this August for the ScanDesign internship, I quickly looked up the club and asked if I could join.
One amazing aspect of the international rowing community is how welcoming clubs are to guests from around the world — I was similarly welcomed while studying abroad in New Zealand. In the US, my experience has been that while we match the welcoming enthusiasm, we stifle it with waivers and logistics. So I was thrilled to be invited to hop in a boat with Københavns Roklub (KR) a few days later.
Rowing is often teased for being a super repetitive motion, with one person yelling "row!", where you literally go backwards. While this is an oversimplification, it's not wrong, and that is what makes rowing such a great sport to join when you don't speak the local language (there are actually lots of commands, some of which I've used for headings in this post). Rowing is about rhythm, consistency, and endurance regardless of where you are. Although, there can be variations — I haven't yet figured out why they carry boats with one bent arm and one straight arm here; they call backing "sculling"; and I was taken by surprise when we did a standing shove off of the dock in an 8+! (I hope you'll forgive the rowing jargon, or enjoy some explanations and Danish translations.)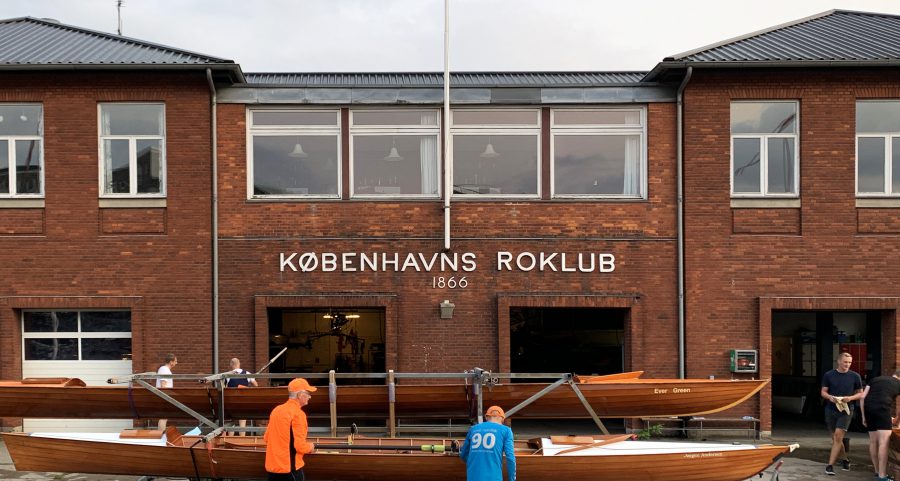 There are four types of boats commonly rowed at KR: out-rigger, in-rigger, gig, and coastal. I had only ever rowed out-rigger, the sleek racing shells used for elite competitions, but wind and wave conditions in the Copenhagen harbor often warrant sturdier boats. I find the in-rigger boats exceedingly charming; they remind me of historic photos of pioneering female rowers.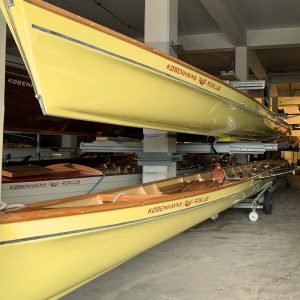 The boats at KR are not old, but stand out for their classic wood and canvas construction in a sport that is now dominated by carbon fiber models. What I find most exciting about rowing an in-rigger (rigged with one oar per person) is that every few minutes everyone in the boat (either three or five people) rotates by one seat, such that each practice session you row both port and starboard and steer the boat. Typically races in in-rigger boats are long, 10k or more, so switching seats becomes part of the race strategy. Gigs are like extra wide quads (four rowers, two oars each), or in our case three rowers and a coxswain. Coastals are designed for open ocean waves and kind of look like a spaceship. All are built for specific conditions and it's been a fun challenge to try different types.
Ro væk (row away)
I'm clarifying the differences in boats because while the motion is the same, rowing to a destination, rather than in a race, is a very different experience and so refreshing! It's a similar satisfaction to hiking; fresh air, exercise, and you stop for snacks. In a typical practice we stay at one end of the harbor or weave our way through the canals, of which there are many. I've also joined two longer rows: a visit to Trekroner Fortet, an island fort in the mouth of the harbor, and a trip out of the harbor to a cafe on the Øresund side, the strait between Denmark and Sweden.
Trekroner is an artificial island that was constructed in the 18th century by sinking several ships and building on top of them. It is now a park much like other old military posts (it reminded me of the Marin headlands in California and Awaroa/Godley Head in New Zealand). We wove through the canals, passed the Lille Havfrue (the Little Mermaid), stopped at a bakery in Nordhavn, and then picnicked at the fort! Rowing out of the harbor was 'viking rowing'. Conditions were less than ideal for easy rowing but perfect for an adventure, and served as a reminder of how much harbors shelter from waves. The swell was about a meter high — no problem for an in-rigger — and it felt like it looks when a rowboat leaves a pirate ship in the movies. We were only on the open Øresund for about 500m and in the hands of a very capable styrmand (coxswain). Our destination was a cafe in the next harbor where we had the most amazing smørrebrød with fried fish.

I have also joined a few harbor races. Like the fall racing season back home, they are head races so not quite as exciting to watch as a sprint, but I really appreciated that my coworkers came out to support me! It highlighted how publicly accessible the waterfront is and that I get to row in the heart of the city. My team also spent a weekend training in the calmer waters of Bagsværd lake, just north of Copenhagen. This is the 2k course where the national team trains, so we hopped in some racing shells and practiced staying in the lane lines.
Til vel (way enough)
In addition to the adventures, I have really enjoyed exploring the city from the harbor and having the perspective from the water. While modern cities may no longer depend on their waterfronts as they used to, evidence of how harbor access shaped the foundations of urban areas is still all around us: bridges, canals, ramparts, dry docks, and buildings once designed for trade. Copenhagen's harbor continues to evolve to meet today's needs for access into and over the water with new harbor baths and pedestrian bridges.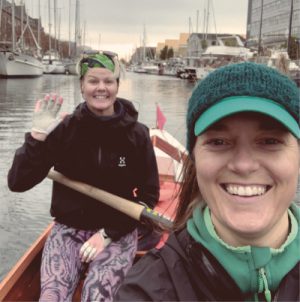 My critique of the current construction aside, Copenhagen harbor is remarkably healthy. Significant effort, design, and engineering have gone into tackling problems of water quality and runoff starting much farther upland. In addition to the slowing of industry in the city, roughly two decades of focused urban planning and landscape projects have cleaned the water so well that there is now a network of swimming baths and even more demand for water access in the harbor. When I arrived during a heat wave in August, people jumped into the water from absolutely everywhere. The weather has cooled in temperature and the light has diminished, but there is still a notable amount of people plunging. The upside of cloudy days is that you can see right to the bottom of the water where there are lush eelgrass meadows, a species that offers many ecosystem services like stabilizing the seafloor, providing habitat, and storing carbon and nutrients. From KR's docks I've also spotted crabs and comb jellies! There are many variables that contribute to a city's success, and much like in rowing, balance is key.
Tak for turen (thanks for the ride)
Tusind tak to the Scan Design Foundation for making my internship in Copenhagen possible, Schulze+Grassov for hosting me, and Prof. Nancy Rottle and the UW Department of Landscape Architecture for getting me here. For more updates, follow along at kristadoersch.com.
— Krista Doersch
Visit our website to find out more about the University of Washington Master of Architecture Interns Exchange Program sponsored by Scan Design Foundation.