Rebild Festival: The Avenue of Flags
Apr 06, 2022
A 110-Year Danish American Tradition
Rebild National Park in Denmark was dedicated in 1912 after Max Henius, a Danish immigrant living in Chicago, lead an effort to purchase approximately 200 acres of rolling hills and heather in Northern Jutland. After completing the purchase from several individual landowners, Henius presented the deed to King Christian X. The King then declared that a celebration of Danish American Friendship would take place at the park each year on July 4th. And thus, a long Danish American tradition had begun.
On July 4, 1989, Jens and Inger Bruun were enjoying the celebration at the Rebild festival. It was a very warm day. One of the warmest festivals ever, in fact. It was said that "sales of cold drinks soared, and there was great creativity when it came to headdresses. Newspapers, wet towels, and handkerchiefs, just about anything could be used to make some shade."

Jens and Inger enjoyed the speeches that day by American NASA Astronaut Wally Schirra (Apollo 7), and Danish sailor, and 1976-1980 Olympics gold medal winner Valdemar Bandolowski. About 12,000 people were in attendance that day. It was another fine festival at Rebild Bakker!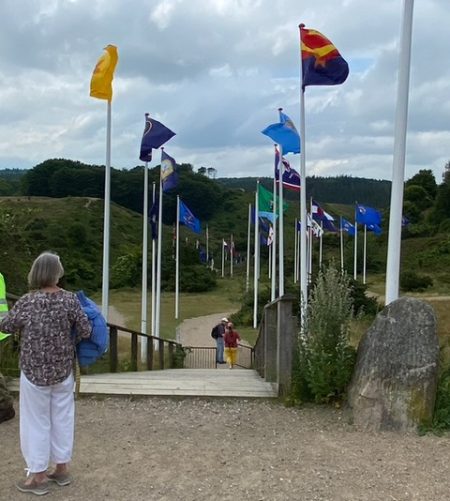 But there was one thing that was bothering Jens that day. The American state flags along the walkway down into the amphitheater did not look good to him. At that time there were 30 state flags which had been sponsored by various Rebild members over the years. Many of those flags had become tattered and worn out. Jens was apparently also thinking that it was just not right that all 50 states were not represented. So, that year he bought 27 new flags, and 11 more the following year. Since then, all 50 state flags fly along the "avenue of flags" in the order which each state joined the union. It's a beautiful sight on July 4th as you walk into the festival.
Along with their legacy of the Scan Design Foundation, Jens and Inger have left a wonderful legacy with Rebild. They were great Rebild supporters for many years. They had many dear friends who met them almost every year at Rebild on July 4th. The story of their American success is one of so many that have been celebrated by Danes and Danish Americans since Rebild began in 1912.
Last year, Scan Design Foundation furthered the legacy of Jens and Inger by funding new state flags at Rebild. And this year, for Rebild 110th anniversary, the state flags will be fresh and new as you walk into the hills. Rebild is deeply grateful to Scan Design Foundation for this thoughtful support, with ties to the history of both organizations.
It is an honor and a pleasure to serve as the U.S. Vice President of Rebild, a position I assumed in 2019. As with all organizations, the last two years have been difficult as we have endured the pandemic. But during that time, Rebild has seen a restructuring of sorts. There is a dynamic new President of Rebild - Jørgen Bech Madsen who is the CEO of Fibertex, a multi-national corporation based in Denmark. Under Madsen's leadership, Rebild is implementing new initiatives which have already engaged the Danish business community, the U.S. Embassy, the Danish Government and energized membership in both Denmark and the U.S. My counterpart in Denmark is Vice President Lars Nygaard-Petersen who lives near Copenhagen. And just recently a new General Secretary in Denmark was hired - Helene Christensen. At 110 years young, Rebild feels like a renewed organization!
I would like to invite anyone interested in Danish American friendship to attend a Rebild event either in the U.S. or Denmark. Membership is not required for participation. This month our U.S. annual conference is being held in Chicago. In 2023, our annual conference will take place in Texas. The U.S. gatherings are always great fun. And of course, the July 4th Rebild festival in Denmark is something you should experience at least once in your lifetime! You can find all the details on the Rebild website - www.Rebildfesten.dk
And when you come to Rebild, take a good look at the state flags along the walkway, and say "thank you" to Jens and Inger!