SDF Artist Exchange in Denmark: Thomas Dambo and the Muckleshoot Tribe
May 17, 2023
John Halliday, Muckleshoot tribal member, was selected by the tribal council to represent Muckleshoot art and culture in an artistic exchange with Denmark's artist Thomas Dambo.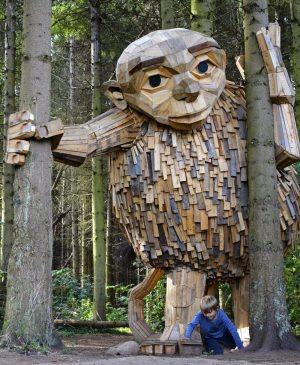 This week John, aka artist name "Coyote", accompanied by his wife Tobi Iverson-Halliday (Tsimshian) met with world-renowned Danish sculptor/ troll maker Thomas Dambo in Roskilde Denmark (outside of Copenhagen). Dambo will be building and installing 5 giant troll sculptures around the Seattle area this summer. Scan Design Foundation sponsored and facilitated this exchange, in partnership with the Paul G. Allen Family Foundation, out of respectful recognition that the Dambo trolls will be located on traditional Muckleshoot tribal territories.
John was honored to be hosted at the Dambo's large family home farm/artist studio and met with the Dambo Team of 20+ artists, carpenters, and business administrators who work daily at the Dambo farm.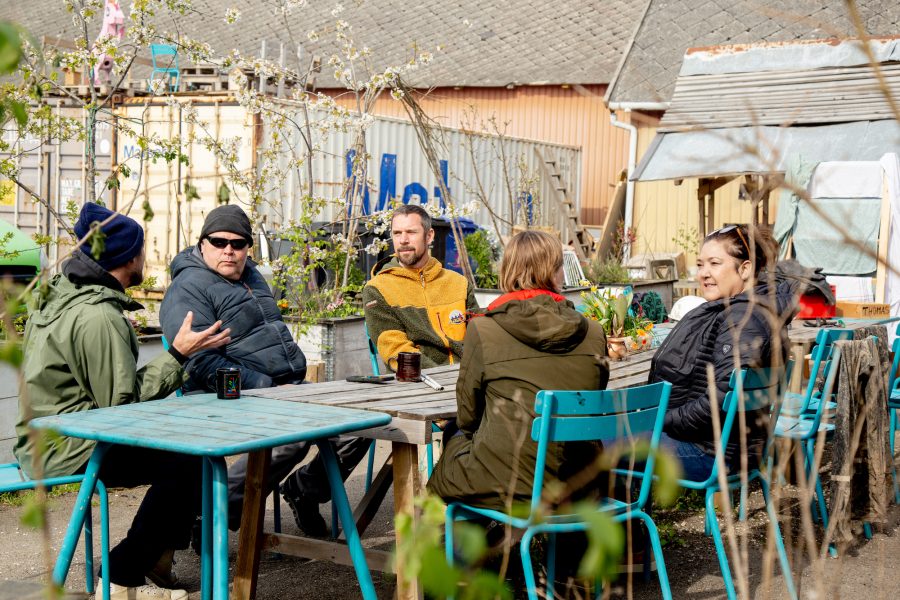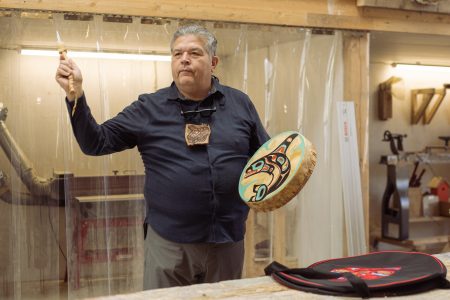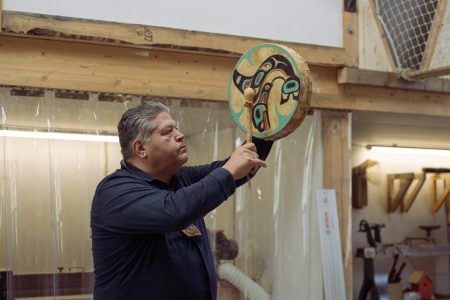 Prior to traveling to Denmark, John had one initial Zoom meeting with the Dambo's creative director and researched Dambo's wide reaching artistic endeavors online with his wife, but other than that John didn't know what to expect from this artistic exchange of ideas, thoughts and the creative process with Thomas Dambo, the environmental "recycled art activist".
Upon arrival it was apparent to John that the Dambo team weren't quite sure what this Native American artist was doing in their troll world either. There were many languages and cultures represented in the Dambo team; Danish, Spanish, French, Argentinian and even some Americans from Texas and California! So to break the ice, John did what is tribal tradition and introduced himself and his wife, Tobi, to the group by drumming and singing a traditional song invoking an invitation to ancestral spirits to bless the meeting with the Danish team.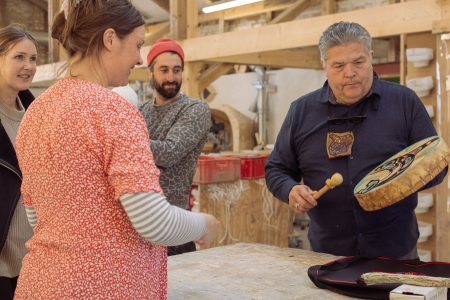 Thomas Dambo's large-scale wood trolls (some as large as 20 ft tall) are built from entirely recycled materials guaranteed to leave a lasting impression. Trolls are an integral part of Scandinavian culture, and each troll Dambo creates has its own name and fairy tale. There are currently over 100 unique trolls throughout the world and "troll hunters" can go on adventures which often include hiking to out of the way locations to find and meet specific trolls. Dambo strategically places the trolls in environmental landscapes to inspire and remind the viewers that our world is beautiful and needs our collective help in preserving our planet. The message "we all can do our part in preserving the environment" is indelibly left on the viewers mind and heart after meeting these special troll messengers. It's a beautiful combination of artistic talent and environmentalism.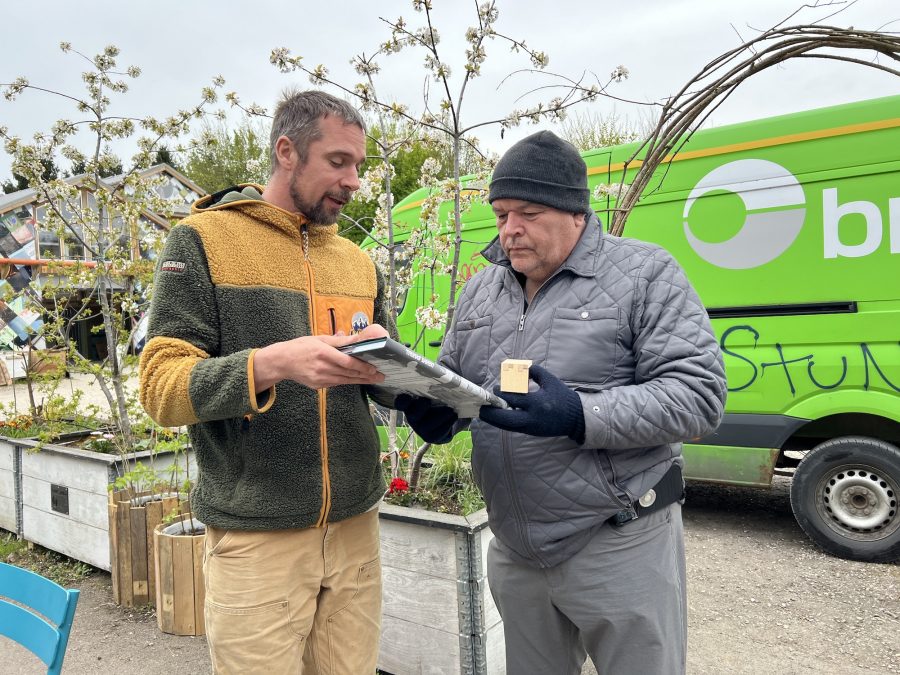 John was proud to relate and relay that his Tribe and so many other Native American tribal values, align with the same world view as the Danish artist's message of preservation, renewal and sustainability of mother earth's resources in order to provide for our children's children and beyond. John explained not only do NW Coast Native American legends and myths bring home the message about the importance of respect for our resources, such as the first salmon ceremony, but that the Muckleshoot Tribe lives these tribal traditions daily through their programs of conservation of the salmon, protection of the water ways in Puget Sound and much much more. That the Muckleshoot people have been the stewards of the Pacific NW since time immemorial and environmentalism has been a way of life and guiding value for its sovereign government.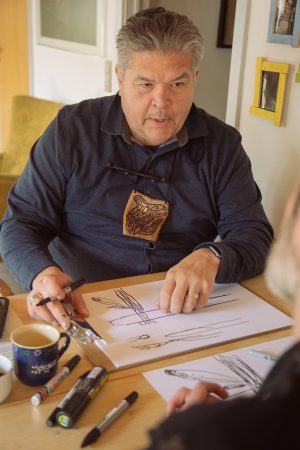 "It was a real trade of our respective cultures. I feel we were kindred spirits and have formed life long friends.
I'm proud to be part of the Dambo tribe now too!"
~ John Halliday (Coyote) ~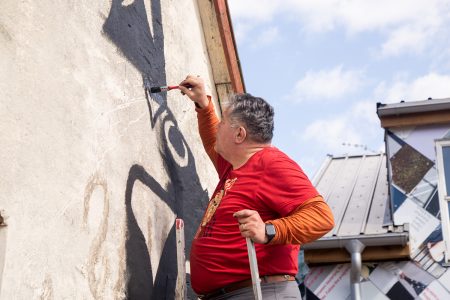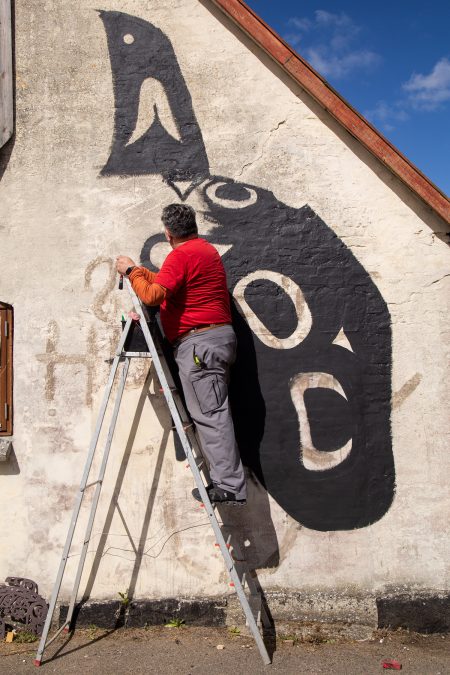 Dambo asked John to share NW Coast Native American formline art in the image of an Orca by paining a mural on one of Dambo's buildings. Dambo will be incorporating orcas into one of the Seattle troll's stories. John also helped collaborate with Dambo's team on the design of a troll and possibly incorporating a nod to the local Native American culture into the upcoming trolls' fairy tales.
John was given paint, brushes and some assistance and told to "go for it". John's limited low vision did not stop him from accessing his memory and using touch for scale in his creation of the large orca. John had never created such a large painting before and at first was nervous about disappointing the Dambo team and his tribe. John worked tirelessly to complete the orca mural, painting until it was dark and starting at sunrise. John surprised the Dambo team by having the mural completed in the morning before they started work. The Dambo team were surprised and impressed with the large scale NW Coast Orca that will now be a big reminder on the farm about the shared values between the environmental activism they promulgate throughout the world and the shared values the Muckleshoot Tribe has promulgated for generations.
John surprised himself too, except he knew that through his opening song and prayer he asked the ancestors to join him in Denmark and John believes that the ancestors were there guiding his hands and helping him create tribal traditional art and leave a mark on the Danish landscape.
John's impression after visiting the Dambo artist's farm was "It's incredible to see these gargantuan trolls come to life! Guaranteed young or old will be mesmerized in their presence! Thank you Thomas Dambo and team and Scan Design Foundation for giving me the opportunity to witness your powerful artistic process in your "troll world" and I can't wait until the trolls come to life in my home territory of Seattle! I know we'll sing and drum together on our tribal territory and our ancestors will be there again!