Transportation Students Get Firsthand Look at Multimodal Travel in Denmark and Sweden
Dec 31, 2022
PSU Sustainable Transportation Study Abroad Program
A group of nine transportation students traveled to Denmark and Sweden this past summer, to meet with planners and engineers and get a feel for on-the-ground transportation in Copenhagen and Stockholm. They explored the area by rail, foot, bike, and boat, in between presentations and tours led by professionals.
Portland State University's Transportation Research and Education Center (TREC)'s associate director, Hau Hagedorn, and sustainable transportation program manager, John MacArthur, led the Initiative for Bicycle and Pedestrian Innovation (IBPI) Study Abroad program. See photos from the trip.
In past years they've traveled to the Netherlands to experience the Dutch approach to cycling infrastructure and multimodal travel. This year, they decided to expand the mission. Copenhagen, like Amserdam, is sometimes referred to as the cycling capital of the world. Stockholm, along with some of the world's most progressive congestion mitigation policies, also boasts a robust multimodal public transportation system that includes ferries.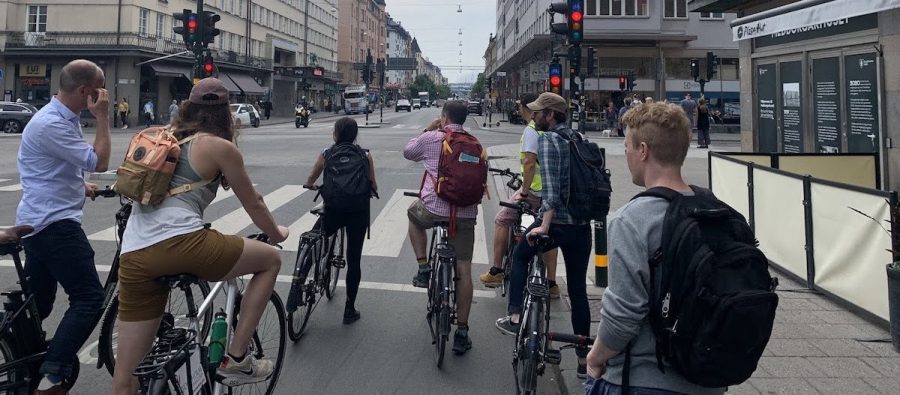 Why host a study abroad program on sustainable transportation? Seeing infrastructure up close and personal, using it, is much more impactful than studying it any other way.
"One thing that we really pushed this year was that the time in-country was about experiencing the place, riding the roads, using the system, watching people on the system and talking with experts. The streets were our classroom," MacArthur said.
Some of the trip's highlights included:
A presentation and meeting with Lars Ekman, senior advisor of traffic safety at the Swedish Transport Administration. He spoke to the group about Vision Zero, which was pioneered in Sweden.
A bike ride led by Henrik Söderström and Theo Bratt, with Stockholms Stad (City of Stockholm);
A presentation on public transit by Mattias Lundberg of the City of Stockholm Transport Department;
The Traffic Garden (Trafiklegepladsen), a playground financed by the city of Copenhagen to educate kids and adults on real-world traffic navigation;
The Park 'n' Play, a parking garage with a playground on top, located in one of Copenhagen's newly redeveloped boroughs, Nordhavn, which the group heard more about from architect Charlotte Algren;
A guided bike tour to the Norrebro section of Copenhagen with Tina Saaby, a former sustainability architect with the City of Copenhagen;
The Amager Resource Center (ARC), a power plant that generates energy for much of Copenhagen using recycled waste;
A presentation from the manager of transportation planning and the cordon pricing policy for the City of Stockholm, followed by a trip to see the electric autonomous shuttle buses currently being tested in the suburb of Barkarbystaden;
The Stockholm Transport Museum and the Vasa Museum, with its preserved 17th century sunken ship;
A bike infrastructure and Levande "pedestrian streets" tour of Stockholm with city planners.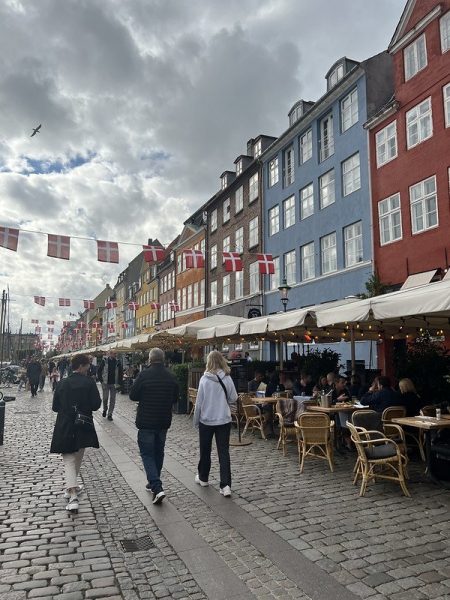 "Lars Ekman, senior advisor of traffic safety at Swedish Transport Administration, talked to us about Vision Zero. He showed us intersection renovations that reduce fatal accidents. It's all about reducing speed and impact, so that crashes aren't fatal," said PSU student Tanja Olson.
The group also toured Copenhagen's canals by boat, explored urban art installations and green spaces, and visited Stockholm's Royal Palace and Seaport and the Stockholm Transport Museum. Speaking with the planners and engineers that made those areas possible offered unique perspectives.
"Because they have limited road space, they have to think differently and creatively. In Sweden, they put snow-melting conduits in their sidewalks. A student went out on a walk and took a picture of the conduits in the road. We were all blown away! It's all framed under the larger umbrella of sustainability and climate change," Hagedorn said.
In addition to guided tours, students got to test out the transportation system by roaming around on their own. On their final day in Copenhagen, MacArthur sent the students on a scavenger hunt to find various transportation easter eggs: a child riding alone, unique transportation features from a neighborhood, or a tiny pedal-powered coffee cart. Among other things, they found many urban-dwelling trolls, all made using recycled and sustainable materials by artist Thomas Dambo.
The study abroad program, administered through IBPI, was supported in part by a grant from the Scan Design Foundation, which made it possible to offer scholarships to underrepresented students.
"Learning from others, experiencing other places and experimenting with new ideas are the foundation of the transportation profession. I often hear, we can't be like Copenhagen or the Netherlands in terms of cycling. Well, when you go there you see that the cities in Europe are in many ways like US cities – people, streets, buildings. You find out that these cities didn't always have high cycling rates but with the right will, policies, and some good design they created interesting and vibrant communities," MacArthur said.
The program is open to students from any university, not just PSU. This year's cohort consisted of five PSU students, two from Oregon Tech, one from the University of Arizona and one from San Jose State. University of Arizona Master of Science in Urban Planning student Zsalina Allen's participation was highlighted recently in UA news. The students came from both planning and engineering backgrounds. One PSU participant, Phil Armand, is also an engineering associate at the Portland Bureau of Transportation.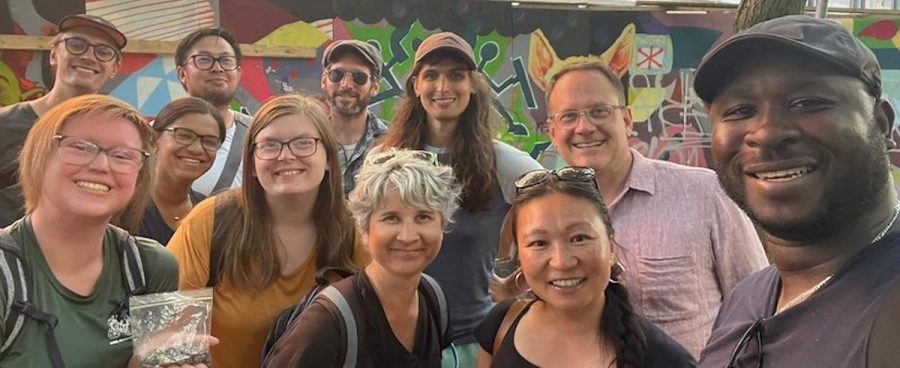 "I wanted to see Scandinavia's multimodal sustainable infrastructure in action, to increase my knowledge so I can improve transportation design in my work as an engineer. ... What I found was a biking paradise in Copenhagen and a pedestrian's dream in Stockholm. From biking to and from the suburbs to five-minute cities; a train every three minutes to e-bike share; a power station run off of recycling, and so many ways to be sustainable. I found that the public transportation system was accessible to all, sustainable, and reliable," Armand said.

Accessible transportation is a primary factor contributing to the quality of life enjoyed by western Europeans, according to Cameron Bennett, PSU engineering masters student.

"As I have become more aware of the societal and cultural factors supporting a high quality of life, I have realized that an effectively-managed land use and transportation system is a major reason why life seems so good in Western Europe," Bennett said.
Caroline Schulze, a civil engineering student at Oregon Tech, agrees that a multimodal transportation system improves city life: "By focusing on the humans instead of the cars, transportation will have to work for people instead of around them," Schulze said.
The two-week study abroad, from June 18–July 2, 2022, was an extension of a spring course, Sustainable Transportation in Copenhagen & Stockholm, available as part of the civil engineering as well as urban studies & planning course catalogs.
Portland State University's Transportation Research and Education Center (TREC) is home to the U.S. DOT funded National Institute for Transportation and Communities (NITC), the Initiative for Bicycle and Pedestrian Innovation (IBPI), PORTAL, BikePed Portal and other transportation grants and programs. We produce impactful research and tools for transportation decision makers, expand the diversity and capacity of the workforce, and engage students and professionals through education and participation in research.